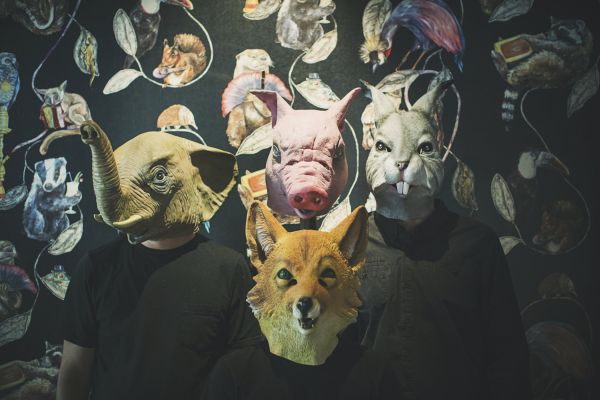 30 January 2018
The Cabin Fever; Photo Credit: Amelia Lyon
The Cabin Fever formed in Los Angeles in the spring of 2016. Ever since, the three-piece has been making music in hopes to channel their turmoil, bad feelings, and worse habits into catharsis. Mixing classic alt-rock sounds with hints of shoegaze, the band rides a wave of melancholy and darkness, creating music to relieve their own fear, anxiety, and depression, with the hopes that it will do the same for their audiences.
Exercise The Demon, the band's aptly named second EP, was recorded live in their own "Fever Dream" studio by long-time friend, Iceland-born Husky Hoskulds (Screaming Trees, Tom Waits). The five-song (and two bonus tracks) EP blends genres and melds fantastical and real-life horror references to appeal to the dark side of listeners.
S Moriarty, fake professor and real songwriter, is the anti-cult leader of the band. Joel Bedolla, who hardly speaks but is not a mute, quietly started in punk/hardcore bands but grew into more experimental sounds and now provides additional guitar parts. Tripp Beam took over percussion duties to round out the line-up after the first batch of songs were completed ("Enjoy Yourself)", and is a natural motivational speaker, keeping Moriarty off the ledge thus far.
The finishing touches on the EP happened with the help of collaborations with Alvaro Vela (Moriarty's talented cousin), Jon Joseph (BØRNS, Kera & the Lesbians), and is bookended by string arrangements with Patrick Taylor (BØRNS), who is not only a talented and literate multi-instrumentalist, but a fantastic tennis player.
Review of Exercise The Demon EP by Big Takeover writer Jen Dan:
The quietly captivating EP winds into the mind with the contemplative opener "B-L-S-H" (AKA "Buy low / Sell high") which features subdued vocals, smoldering guitar embers, and bittersweet strings. The beat increases incrementally on the verses next track "Simon Says" and then opens up with sweetly wistful guitars and vocals on the chorus sections, while the lyrics still give in to sadness.
"Trucrime" floats by on synths diffusion and hazy vocals, while the lyrically bleak "His People" brightens up instrumentally with sharper electric guitar lines and a kinetic rhythm. Lyrics like "And there's no reason to trust his people / 'cause they all lie and they're all evil / And there's no reason for you to believe in him." make one wonder if the band is referencing the current US president and his administration – or if they're going for a more general view of unethical people in powerful positions or of corrupted institutions…
Downer, but thought-provoking lyrics continue to run through the title track amid bassline rumble, a measured drum beat, and cymbal smash. Bonus number "Tony's Song" brings on the synths and a smoother bass-led groove, pin-pricked by a gleaming electric guitar line. Last track "B-L-S-H" (slomix) is a depressive lark as slowed down take on the EP's opener, filled with shadowy, drawn out vocals and a gloomy atmosphere sweetened by the occasional strings.
Exercise The Demon will be out February 2nd.
Website
Facebook
Instagram
Twitter
comments powered by