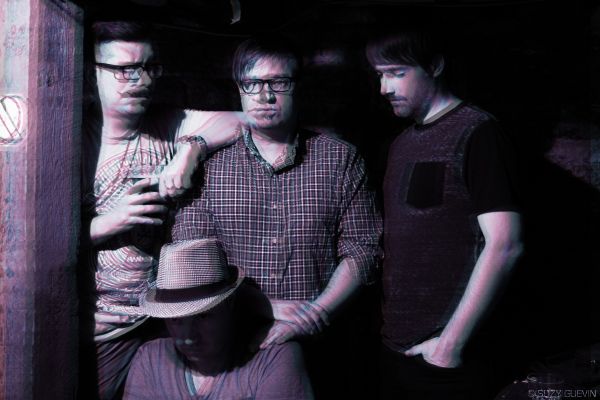 27 April 2018
The City Gates; Photo Credit: Suzy Grevin
Hailing from Montreal, Canada, The City Gates shimmers between post-punk, shoegaze, and dream-pop. By using guitars with lots of fuzz, reverb, and delay pedals, the band can be described as a modern answer to Phil Spector's (in)famous "Wall Of Sound": intense, powerful, melodic, moody, textured, and raw.
Today, The Big Takeover is stoked to premiere The City Gates' second album in full. Entitled Forever Orbiter, it comes out today, April 27th, via Northen Light Records. Forever Orbiter follows up the band's Collapse album from 2013 and 2016's sold out, special limited cassette released for International Cassette Day.
The seven-track LP includes the band's epic single "Checkpoint Charlie" that Sounds Better with Reverb has called, "an expansive tune, shifting from introverted to anthemic". By listening the new opus, you can expect to hear brilliant, obscure shoegazey/post-punk sounds like "Echo Radio" which features Krissy Vanderwoude from Whimsical and, as DKFM Shoegaze Radio puts it, some, "Cavernous vocals [that] overlay a wall of guitar expanse."
Each song dynamically shifts from brooding lows to airy highs, melding gear-grinding post-rock guitar conflagration, deep bass line grooves, and propulsive drumming with spacious, exploring guitar lines that sweep high in the sky. There's room to reflect – and rock out – amid the hazy, drawn out vocals and dense and vibrant washes of guitar. While recalling such illustrious bands like Slowdive, The Sisters of Mercy, and The Jesus and Mary Chain, The City Gates' music still definitely sounds fresh. It's fuzzy and ethereal: a pure delight to your ears!
You can now order Forever Orbiter on CD, cassette, and digital (vinyl coming soon!) at Bandcamp
The City Gates has performed hundreds of shows, shared stages with NOTHING, shoegazer veterans The Veldt, The Stargazer Lilies, and The Foreign Resort, and played Canadian Music Week, Indie Week Canada, and Under the Snow festivals. The band will also play headlining shows in the U.K. in May with a stop at Focus Wales Festival 2018.
The City Gates is also well-known for their participation on several of The Blog that Celebrates Itself Records' acclaimed alternative tribute compilations, including Strange Fruits, Catherine Wheel Tribute, which slotted at #31 on Jack Rabid's Picks for 150 Best Albums (new recordings) for 2016 here at The Big Takeover.
The City Gates shows:
Apr 28- La Croisée Des Chemins, Chambly, CANADA
May 10-Fat Boar, Wrexham, UK (Focus Wales Festival)
May 11 –Atomic, Wrexham, UK (Focus Wales Festival)
May 11- Focus Wales/Glyndwr TV session, Wrexham, UK
May 12- Aatma, Manchester, UK
May 26- L'Escogriffe, Montreal, CANADA
Bandcamp
Facebook
Twitter
Northern Light Records
Focus Wales