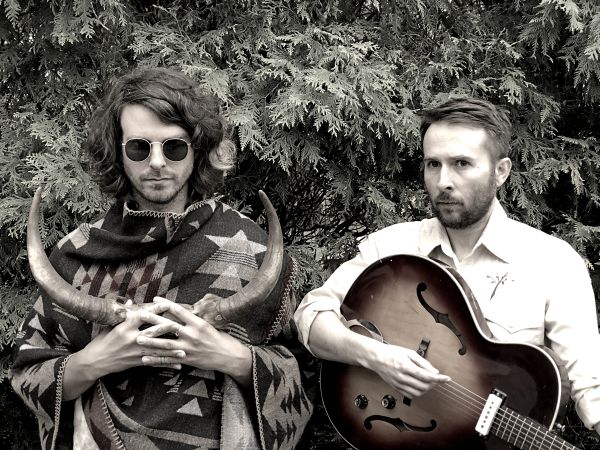 19 July 2018
Found Wild – Photo courtesy of Found Wild
Like magnets, Tim Arnold and Keith Goodwin have always seemed to come back to one another, despite their polar differences. Tomorrow they will release their debut EP as Found Wild, a delicate collection of effortless indie-folk tracks, and The Big Takeover is hosting the EP premiere right here.
The journey to get to this point was not a straight path. In fact, the road twisted and turned so much that it's a genuine surprise the two are still here today, not just standing, but creating together once again.
The EP opens with "Nothing Gold Can Last," a song that WXPN's The Key called "an aching but life-affirming rootsy tune punctuated by piano accents, emotive slide guitar and a catchy-as-hell chorus." It sets a strong tone for the five songs that follow. Years ago, Tim and Keith played together in an indie band called Good Old War. Despite having played in previous projects together in the early 2000s, Good Old War was their first glimpse at success.
But a lot has happened in the 15+ years these two have been performing and writing together; with the new-found attention, Tim delved deep into the world of drugs and alcohol, but later quit Good Old War upon learning he was going to have a child. Stretching their bond to a breaking point, Tim moved to Atlanta and away from Keith, who had begun to settle down in Pennsylvania with his own family. You can feel Tim's struggle in "Weatherman," a song that serves as his hypothetical letter to the world and the people he loves, saying all the things he needs to before he's gone.
But Tim and Keith could never stay apart for long. Following a year of intensive treatment and working odd jobs throughout the South, Tim returned to Good Old War with a new purpose and creative drive. The two began writing together again, but this time let Tim's voice take the lead. The result of their collective journey is Found Wild, with the strength of their bond and these six simple stories guiding them to new creative heights.
Found Wild's self-titled debut EP is available everywhere digitally tomorrow. Vinyl pre-orders are available now on Memory Music, the record label started by Grammy-nominated producer Will Yip.
comments powered by