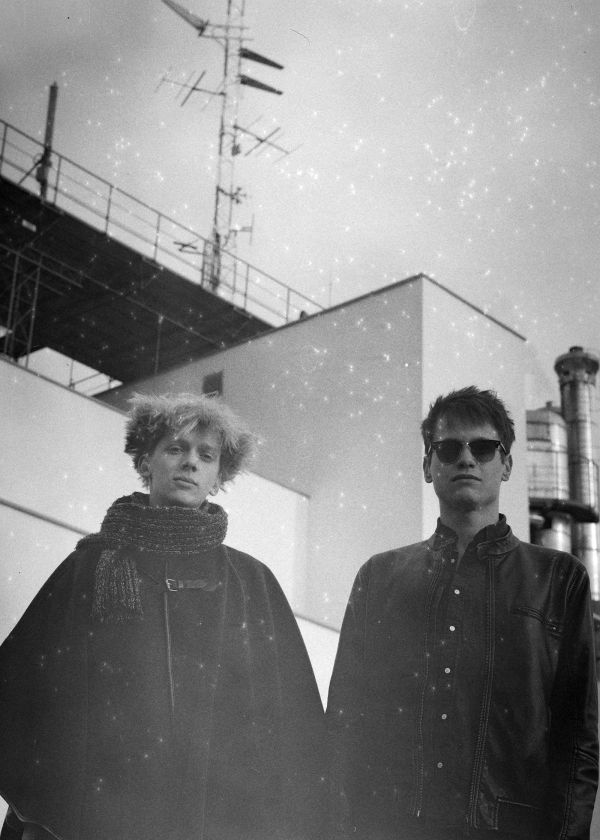 29 November 2017
MOLLY; Photo Credit: Fabio Gartelgruber
MOLLY, a duo from Innsbruck, Austria, sound like a band out of time – and ahead of it. Lars Andersson and Phillip Dornauer's music is dense, at times cinematic, and they mine the Thames Valley and post-rock scenes from the late-'80s for inspiration, while also adding hints of the otherworldliness found in Scandinavian bands such as Dungen, Sigur Rós, and The Radio Dept.. What they've done with these elements is what sets them apart, especially when you consider they're still in their early twenties.
Working towards their debut album next year, their captivating new EP, Glimpse, is being released December 1st via Dalliance Recordings both digitally and as a deluxe, limited clear 12", putting a marker down for what's to come.
The Big Takeover is over the moon about premiering this stunningly absorbing and transporting EP.
The title track lays down a gentle mantle of post-rock musing that slowly rises by the midway point with the addition of a chiming guitar pattern, synths washes, and shimmering cymbals, before ending in a fiery guitar-led conflagration that measures up to the best of early Sigur Rós – and then even goes past that into doom-metal darkness.
The winding and brooding epic "Time And Space" is a relentlessly chugging post-punk number that carves hollowed-out curves of gloom and sweeping-to-the-skies glory, spiraling at times with psych-rock touches and airily keening vocals. EP-ender comedown "Time And Space Pt.2" sounds more song-like at its start with its plaintive vocals, but then becomes an extended opus of drawn-out guitar reverb and echoed noise. This number may be MOLLY's bid for a reflective and stripped-down 'folk' song, but it's taken to another level by the suspended-in-space beat and reaching, ribbon-like guitar lines.
As a primer for the Glimpse EP and what's to come next year, the band has also recently posted a striking concert film entitled Live From The Woods that showcases their mesmerizing live atmosphere and sonics. Speaking of the performance venue, Andersson says, "We found this place to film it in that seemed just right; in a little Austrian town amid the Alps, they've got this huge complex, a hall where people practice archery, with hundreds of fake plastic animals, trees and terrain. It had this weird and surreal atmosphere to it that helped us decide to get some friends over and help us shoot six songs in there."
What they achieve on stage as just a two-piece is nothing short of breathtaking. Putting a lot of energy in, the intricate layers Andersson builds on his pedal banks are complimented by Dornauer's fierce metronomic drums, and with the quiet-loud dynamic mastered too, you hear a much bigger band than the duo you're seeing up on stage.
A talked-about set at UK showcase The Great Escape in Brighton was among a handful of shows MOLLY played this year, and they'll finish the year with two shows in their native Austria before things kick off in earnest in the New Year, with European touring and their debut album ready for release.
Website
Bandcamp
Facebook
Instagram