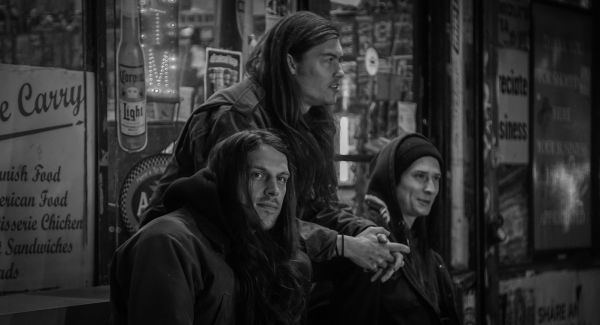 3 August 2018
Grandpa Jack – Photo Credit: Dada Shikako Instagram: "at"dadazito
Brooklyn-based power trio Grandpa Jack is no stranger to heavy riffs and otherworldly soundscapes that defy time and tempo. With primal grooves, fuzzed out guitars, and a thundering low end, Grandpa Jack's self-titled debut record is a heavy, dynamic, and textured take on psychedelic rock that explores the darker reaches of the soul.
Johnny Strom, guitarist and vocalist in Grandpa Jack shares, "When we started writing the record, we quickly realized that lyrically, the songs take on an observational quality. They're all meant to reflect on human nature and the folly of man."
The band tracked and mixed the record with Matt Labozza of Studio G, then teamed up with mastering wizard Brad Boatright of Audiosiege (Sleep, Yob, Corrosion of Conformity) to transform each track into a hard-hitting sonic exploration of the mind.
Bassist Jared Schapker details his writing of the track "Little White Lies", "It's always easier to point the finger but more much difficult to accept fault and face the the fact that you might be the source of your own turmoil. "Little White Lies" is a song about that self-reflection and inner-struggle."
About the song "Evil One", drummer and vocalist Matt C. White (also a solo artist who put out the LP wallow in the hollow. a few months ago) states, ""Evil One" is the shortest, most upbeat (if you could call a Grandpa Jack song upbeat) song on our record. Musically "Evil One"'s flurry of time signatures and syncopated riffs will keep the listeners guessing."
Grandpa Jack, the full album, will be out on August 10th via Lost Moon Records, an independent record label based out of Cincinnati, Ohio and Brooklyn, NY, and on the usual digital platforms.
Pre-Order the album on all digital platforms now.
Pre-Order the limited edition mustard yellow vinyl at Lost Moon Records
Grandpa Jack Website
Facebook
Twitter
Instagram
Lost Moon Records Website
comments powered by