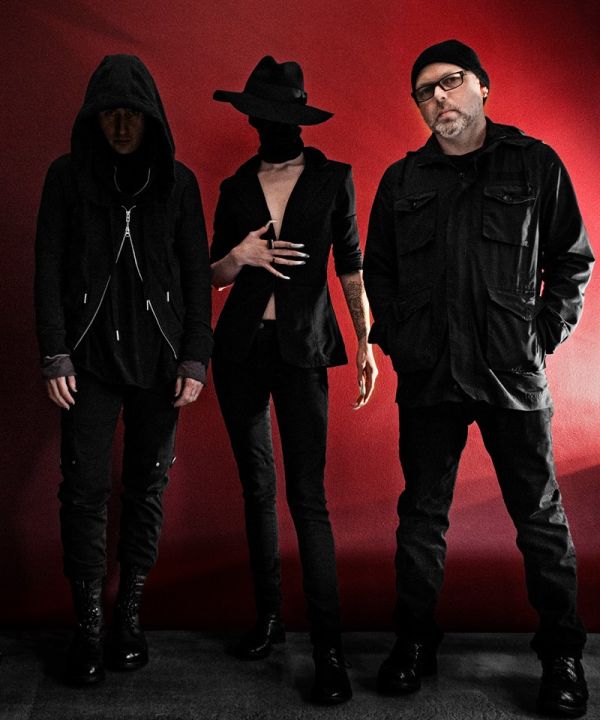 27 November 2017
We Are Parasols; Photo Credit: George Lewis III
There has been a lot of discussion in the past few years about the huge resurgence of the vinyl record within the music industry, but the cassette tape revival is also worth noting. Today The Big Takeover is pleased to present you a great release being issued on tape and sure to exhaust its limited-run supply. Inertia is the second album from We Are Parasols and it's set to release in early December via Portland-based label and artist collective No Movement Records.
We are Parasols' roots seem to intertwine with the music of those who have influenced their own music – Curve, Wire, Depeche Mode, Gazelle Twin, Nine Inch Nails, and Bloody Knives.
Loaded with innovation and a well-crafted waxing and waning of intensity, Inertia is most closely reminiscent of The Rose Chronicles, Single Gun Theory, and Bill Leeb's side project Delerium (particularly those tracks where Kirsty Thirsk and Jacqui Hunt contribute vocals). Interestingly, both of these vocalists front the first two projects mentioned.
Based in Oregon, We Are Parasols is D (vocals and bass), Jerman (guitars, piano, synthesizers, programming, and samples), and Alec Eye (drums, programming, and synthesizers).
"I have a stronger desire — or, really, a need — to continue to make and perform music. So that deep need often overrides the fears I have about creating and sharing our art, and performing live," says D.
The band aims to combine industrial, shoegaze, dream-pop, and darkwave with sci-fi in order to tell a dystopian, possibly humanist, probably anti-human, story about violence, technology, politics, control, and an android feminist anti-hero known only as a synthetic sexual tasked android body.
We Are Parasols began as a shoegaze-electronic hybrid band. Their debut full-length Infrastructure was followed by their bite_your_tongue EP, a more minimal ambient release. The song "No Movement" off the band's debut album, which was about an android sex worker, ultimately spawned the musical world of their new album Inertia.
There are 13 tracks on the cassette version of the LP, which comes with a full color 4-panel J-Card featuring all the lyrics, as well as a digital download (a poster is also available). While these same 13 tracks are available through online stores and streaming platforms everywhere, the Bandcamp edition includes a special bonus track – "hush (Piano Version)" – especially for fans of This Mortal Coil's three cherished albums.
This is certainly something impacting to fill your ears with. The expected street date for the cassette release is December 8. For now, you can order the full album in tape and digital formats from the trio's Bandcamp or enjoy it through the regular online stores and streaming platforms.
TRACK LIST
1. data merge
2. concrete
3. dim
4. in the code
5. scoptophilia
6. the perfect host
7. hush
8. quarantine
9. recoil
10. ss.tab
11. repeater
12. new blood
13. bloodvoice (a violent choir)
14. hush (Piano Version)
Also check out the slow-moving grounding video they've released for "hush (Piano Version)" and the more uplifting "dim".
We Are Parasols
Facebook
Twitter
Instagram
Bandcamp
Soundcloud
iTunes
Spotify
YouTube
comments powered by