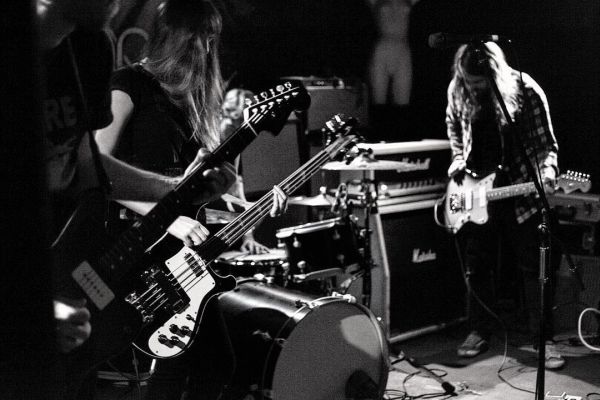 17 August 2018
Jet Black – Photo Credit: Aaron Snow
Formed in 2008 in Quebec City, atmospheric alternative rock band Jet Black is composed of Francis Berthelot (guitar), Jean-Philippe Laforge (drums), Philippe St-Laurent (guitar and vocals), and Stéphanie Vézina (bass and vocals). The members specialize in creating massive, textured shoegaze/space rock walls of sound and abrasive noise rock via saturated guitars, dynamic rhythms, and bittersweet melodies.
Jet Black will be releasing their third full-length record, L'ère du Vide, on August 24th via ODT Records (CAN), I.Corrupt (EU) and Skeletal Lightning (US). It was recorded, mixed, and mastered by Jordon Zadorozny at Skylark Park in Pembroke, Ontario in the summer last year. The LP follows In Paradox (2014) and Escape Measures (2011), which were both produced and released independently.
The Big Takeover is extremely pleased to host the premiere of the magnificent L'ère du Vide in its entirety, a week before its release date. The first 6 songs of the 8-track LP, including lead single "All Is Wrong", are dynamically urgent, sweepingly expansive epics that meld the post-rock, shoegaze, and space rock genres.
Rising to the sky with a fiery blaze and calming down into cool reflection, each reverb-drenched tune flies under foreboding lowering clouds and then sparks into the rarified upper atmosphere. The bleak and questioning lyrics are strung out through the hazy, ruminative extended vocal delivery.
Penultimate "Little Did We Know" changes the pattern with a stripped down sound that features acoustic guitar strum. Closer "Temporary State" opens with lamenting vocals, but shifts into more hopeful sonic uplift before spinning out with static-like noise.
Jet Black have a focused musical aesthetic that includes the reasons behind creating music (theirs and in general). Read their statement below to delve into their exploratory, critical-thinking mindset:
"Our time is characterized by a thirst for immediacy and instantaneous gratification. Expansive technological growth has increasingly fragmented our collective awareness and one can certainly wonder if there is any substantial meaning in investing time, energy and resources in the creation of new music – new music that will ultimately fade into generalized indifference. Why should one deploy continuous creative efforts if they will inevitably be swallowed whole by an endless tide of propositions? How should any artistic endeavor entail a significant intrinsic value for its authors; a value that could even transcend the outcome of its process?"
"To create is, more importantly, to perceive and understand the world in a certain way. Music then becomes the extension – or rather the representation – of the particular vision of its authors. The dark, noisy and dystopian character of an album is better defined by the valorization of critical thinking. Most of the time, this approach will highlight the absurdities generated by various mechanisms that now frame every piece of our existence. In such context, it seems difficult not to succumb to cynicism towards this post-modern desubstantialization, which, to use Gilles Lipovetsky's words, inevitably rhymes with the logic of emptiness."
Jet Black's Big Cartel (for LPs and merch)
Bandcamp
Facebook
comments powered by