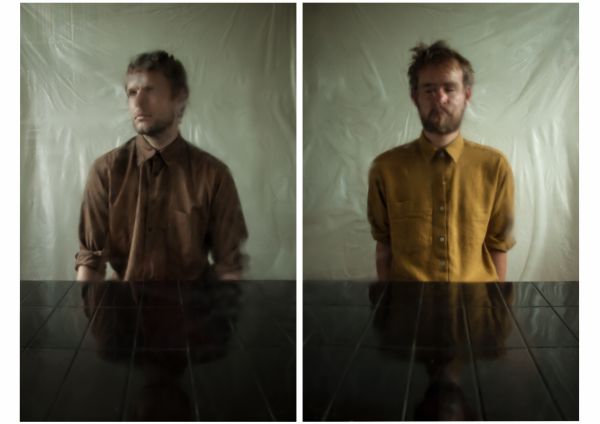 1 September 2017
She Dives; Photo Credit: Emma Holm Jacobsen
Nebula is the first release from Danish duo She Dives, which consists of Asger Kudahl and Nils Bloch. The album is an investigation into the nature of disintegration. Organic, digital, and cultural decay are present in both the lyrics and soundscape, and even the very structure of the album as it gets increasingly fragmented, eventually dissolving the linear structures of traditional songwriting.
The album is a collage of catchy melodies, ambient soundscapes, and sample-based electronic beats produced by the duo in cooperation with Mads Brauer (Efterklang, Liima), Christian Rhode Lindinger (Treefight for Sunlight), and William Kudahl (Infants).
Over the course of its five songs, Nebula mirrors the structure of organic disintegration: a journey from tangible song structures, representative of cultural order, towards an abstract and formless ambient soundscape. Like a body slowly decaying.
The band members explain, "Disintegration is ever-present in a contemporary society marked by climate change and fragile ideological structures, but is also more universally tied to the fact that our bodies start a process of decomposition from a relatively early age and to the realization that even our most stable social relations can suddenly fall apart."
The album questions how we live with these disintegrative phenomena in a society that is so fixated on growth, progress, and youth. Questions that are approached lyrically from different view points: bodily decay, post-apocalyptic visions, lovers drifting apart, minds descending in madness.
The conception of Nebula mirrors the world it is portraying. The music has taken shape as a collage of field recordings, YouTube samples, and musical fragments from all over the world. Across the album are traces of everything from Moroccan folk music to classical choral music and British acid house in the otherwise predominantly electronic soundscape.
She Dives has created Nebula as a coherent art piece – an artistic examination of life, death, and time.
Nebula releases on September 4th via Resonans Recordings (digital and 12" vinyl) and Peconic Records (casette).
Pre-order/buy vinyl
Pre-order/buy cassette tape
The Big Takeover is pleased to premiere the exploratory and absorbing album in full below:
comments powered by