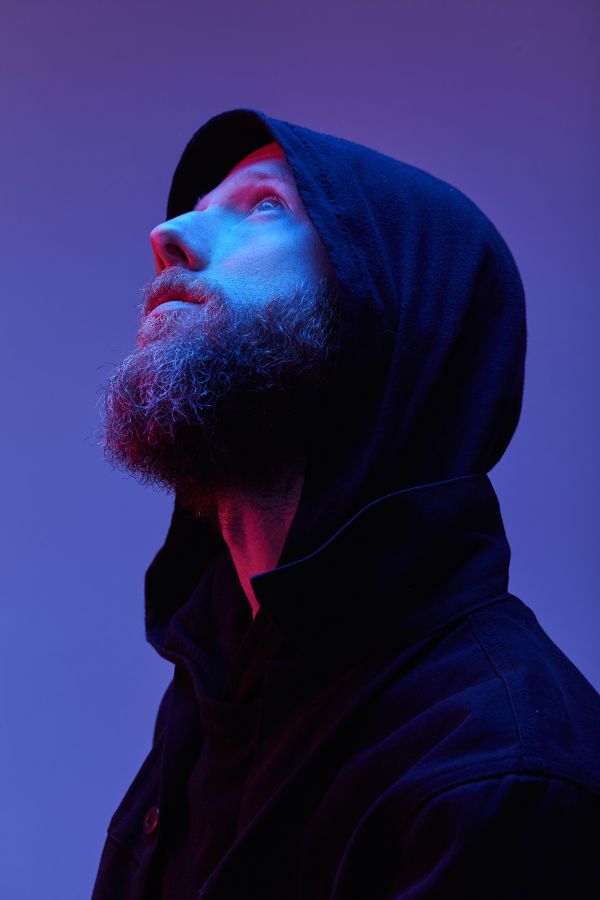 13 March 2018
Mythless; Photo Credit: Diane Zhao
Jason Bartell made his bones in Brooklyn stalwarts Fang Island. After two acclaimed albums and countless shows, the group quietly disbanded during 2015. However, the guitarist didn't stop creating. Instead, he planted the seeds for Mythless.
"Fang was a band of friends, and sometimes friends just grow in different directions," Bartell explains. "Once things slowed down and eventually stopped, it became more imperative for me to have an outlet, so I started to focus on Mythless. The experience pushed me to a new place where I would be responsible for everything myself. I enjoyed that freedom."
Between hosting gallery showings and creating visual art of all kinds, Bartell tracked what would become Patience Hell at Machines With Magnets recording studio in Providence, RI. Fellow Fang alums Marc St. Sauveur and Nicolas Andrew Sadler joined him on the drums and bass, and along the way, he incorporated an expansive aural palette, including "a maximal hard and fast element with harpsichord and lush keyboards to offset the wall of guitars.
From the staccato rush of "Thread Tugging" to the waltzing beat on "Copper Mirror," Bartell spins a loose, fictional yarn of "drifting vignettes of memory and death… You can take whatever you want from it… it's not all dark and brooding, and it's not wholly positive. It's somewhere in between. That's what makes it fun." By embracing those maximalist tendencies, he creates something wholly intimate, yet boldly rapturous in the end.
Listen to the 4-song EP at YouTube:
Patience Hell EP arrives on Friday, March 16 via Joyful Noise Recordings.
Pre-order link