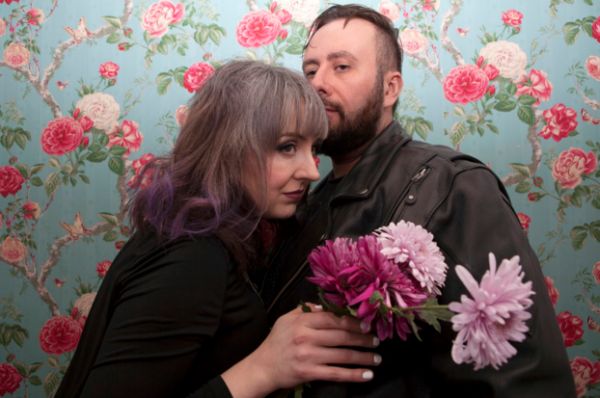 18 May 2017
Ghost Twin (Pictured left to right) Karen and Jaimz Asmundson; Photo Credit: Karen Asher
Ghost Twin is a synth-pop duo from Winnipeg, Canada fronted by Karen and Jaimz Asmundson, long-time artistic collaborators and husband and wife of 12 years. Jaimz, also an internationally-recognized filmmaker, first worked with Karen on a self-aware dark comedy short film, Goths! On the Bus!. The film played at many international festivals, including Cannes.
The vision for Ghost Twin developed from a concept for a new dark dance project that could incorporate edited video as both percussion and visuals. Since Ghost Twin's debut EP, Here We Are In The Night was released, they've performed their immersive audio/visual show across Canada, from packed, sweaty clubs to acclaimed festivals such as NXNE, Pop Montreal, Breakout West, and Terminus. The EP eventually caught the ear of Maya Postepski, drummer for Austra and electronic music producer known as Princess Century.
Postepski approached the band and was then brought on to produce and collaborate on what would become Plastic Heart, Ghost Twin's first full-length album. Working alongside co-producer and engineer Michael P Falk (Les Jupes, Head In The Sand), Plastic Heart will be released on labels Head In The Sand and Artoffact on May 19th. Ghost Twin executes a dynamic, audiovisual tour de force that will engage your every sense. Come follow the darkly hypnotic beat of Plastic Heart.
Karen and Jaimz discuss their songwriting process and how their approach on Plastic Heart differed from Here We Are In The Night: "Our songwriting process is always the same: we're always humming little phrases of music or lyrics into our phones and then will convert this nonsense into a series of loops which we then collaboratively flesh out into a full song. For this record, we had an intense two weeks of recording with Maya and Mike, where many elements of our music were expanded by using a larger variety of synths, 808/909 drum machines, live drums and multiple guitar amp and pedal rigs. We've collected a nice number of vintage synths since our last EP, all of which made it onto this record. Mike and Maya were like some kind of alchemical magnifying glasses that helped us focus our energies and distill them into gold. Our last EP was recorded and mixed in a week, this one took about two solid months."
They also delve into the inspiration behind Plastic Heart: "This record takes a lot of inspiration from unseen forces and mysteries beyond our understanding such as our experiences living with ghosts, sleep paralysis and lucid dreaming. There are also quite a few songs dealing with personal issues. Some of the tracks deal with our early lives together where we lived with optimism but near poverty; had and lost some close friends to addiction; and our own experiences approaching a numbing oblivion when faced with tough life experiences when losing a parent. All of our songs are our way of dealing with life's shitty lessons or as a way of understanding our own strange existence."
They conclude with the goals that they set out to achieve on their first full-length: "We really just want to connect with people who enjoy this music and who can relate to some of the topics we explore. We consider our new record and live show to be a bit of a cathartic and spiritual experience which we look forward to sharing when we tour Canada this May. We'd also really like to bring our live show to the rest of the world."
Official Lyrics Video for "Saturn Swallowed the Sun":
Official Video for "Plastic Heart":
Official Site
Facebook
Bandcamp
Twitter
YouTube