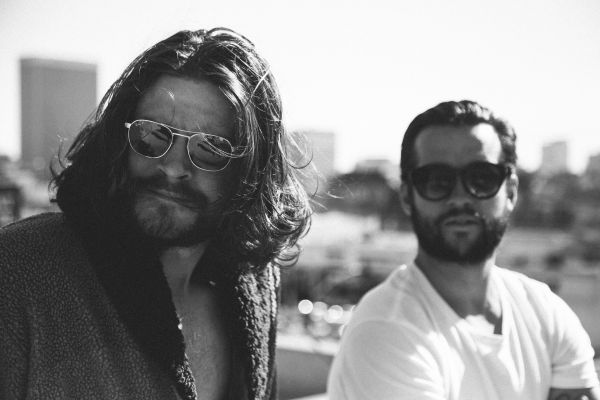 11 July 2018
Well Well Well – Photo Credit: Andrew Mills and Max Kreutzer
San Diego's Well Well Well will simultaneously release Poptimism and Ships EPs this Friday, July 13th. While the two works were recorded in vastly different environments and each tell their own stories, both EPs travel the same journey of genre and melody.
Poptimism is a musical experiment in production and exploration, heavily influenced by the futuristic stylings of Adam Rasmussen and Christopher Lynch of Gardens & Villa and was one of the last albums recorded in their now defunct warehouse studio Frog Sound in Frogtown, USA.
Ships, on the other hand, tells a story of heartbreak, loneliness, and loss and was appropriately recorded to 16-channel analog tape on Jacques Cousteau's 1936 research vessel, Just Love. Additional recording was done with producer, songwriter, and composer Johnny Hanson at his studio The Nest in Boyle Heights.
Both Poptimism and Ships were mixed by Cian Riordan (Foxygen, Waaves, Mini Mansions) and both EPs are experiments in what happens when you open your creative minds to others.
Fronted by Seton Vidal Edgerton and talented multi-instrumentalist Dan Nichols, Well Well Well picked up where their previous band, Barbarian, left off. Shortly after opening for the Arctic Monkeys and touring nationwide with Bat for Lashes, the band fell apart after the untimely death of longtime friend, engineer, and bassist Jon Greene.
But Edgerton and Nichols have picked up the pieces and have launched into exploratory indie pop territory with these two new EPs that employ catchy melodies, dynamic rhythms, and layered textures to rich and dreamily captivating effect. Stream Well Well Well's dual EPs, Poptimism and Ships, exclusively here at The Big Takeover, ahead of their worldwide release this Friday, July 13th.
Poptimism EP:
Ships EP:
Track Listing:
Poptimism
1.Sleeping Away
2. Me
3. Buzz Off
4. Poptimism
Ships
1. Day After Day
2. On Your Way Home
3. Ships
4. New Friend
5. Without Him
6. MTL (More Than Love – Keith Sweaty Remix)
Later this month Well Well Well begin a unique collaborative art and music zine tour named Choose Your Own Disaster Tour. Along with BRUIN, the band will be creating an illustrated 25-page fanzine specifically for the tour with Khene Zine, highlighting the local bands, artists, independent labels, DIY spaces, and influencers in each market with customized artwork and posters by cult-artist Walker McCullough. The zine will be a 'Tour Guide for the Creative Community' to get to know music scenes on a statewide level, and will be sent to the bands, venues, record stores, bookstores, and local influencers.
Well Well Well Tour Dates
July 21 – San Diego, CA – The Casbah; with Wild Wild Wets, Ethics (TJ) & Creepseed
July 28 – San Diego, CA – Karl Strauss Arts & Amps; with Little Hurricane
Well Well Well and BRUIN Choose Your Own Disaster Tour Dates
July 31 – La Puente, CA – Bridgetown DIY Presented by Khene Zine and Local Deadbeat Agency; with County Fair & Poor Timing
Aug 01 – Santa Ana, CA – Beatnik Bandito Presented by Khene Zine & Lost.N.Sound with Rufrano & Danielle Stacy
Aug 02 – Los Angeles, CA – Ham & Eggs; with Alex Bloom & Sun Colony
Aug 03 – San Francisco, CA – LinkedIn Rooftop
Aug 04 – Berkeley, CA – The Ivy Room; with LVXE, presented by Massflow & Dream Chimney
Aug 05 – San Francisco, CA – Neck of the Woods; LVXE, presented by Massflow & Dream Chimney
Aug 07 – Sacramento, CA – TBD
Aug 08 – Placerville, CA – Volution Gallery; with Los Webelos
Aug 09 – Santa Cruz, CA – Church House
Sept 24 – San Diego – Casbah with Yuno
Website
SoundCloud
Twitter
Facebook
Instagram
comments powered by