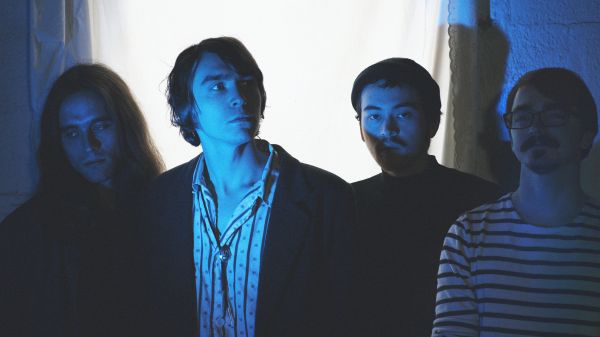 12 July 2018
Echo Courts – Photo Credit: Jean-Luc Swift
Following the release of their debut LP, In The Garden, North Carolinian psychedelic pop/indie rock band Echo Courts have taken a different approach with their second album, Room With A View, which arrives July 13th via Refresh Records. The 6-piece act have slimmed down to a 4-piece ensemble, allowing each member more freedom to explore their own style in the writing. The songs evolved over the course of a year, as the band toured throughout the SouthEast region with their new line-up.
When it came time to record Room With A View, Kelly Fahey (vocals, guitar, keys), Jean-Luc Swift (vocals, guitar, keys), Nate Goldsmith (bass), and Nick Parascandola (drums) found themselves with a set of songs that showcase a matured and more focused sound. A retreat from the sunshine '60s pastiche of their previous work, "Room With A View is a necessary step forward," Fahey explains. "The album's title says it all."
Room With A View is classic rock and pop at its freshest vintage, pouring forth with catchy sweet-tart melodies, jangling to angular guitar hooks, burnished gold vocal harmonies, and touches of psychedelia and country-rock. Bittersweet rumination to sly musings on love, change, and loss in relationships – with others and oneself – among other subjects, are displayed prominently on the album. The lyrics are crisply to dreamily enunciated and surrounded by vivid and diverse retro/mod sonics. Each instrument, from traditional guitars, bass, and drums to organ and other keyboard notes and shimmering, simmering, and at times noisy percussion gets the chance to shine in its setting. Nothing is obscured. All is highlighted to full effect for a completely captivating aural experience.
Recorded and produced by Jean-Luc Swift at A Domestic Studio and mastered by Kris Hilbert at Legitimate Business, Room With A View will be available July 13th on 12" vinyl and cassette, and digitally via iTunes, Spotify, and other retailers. Echo Courts will be touring throughout the East Coast this summer.
Track Listing:
1. I Don't Mind
2. Take Away
3. Replacement #3
4. Strawberry Pie
5. My Mind Is Not Right
6. Not For You
7. Daisies #4
8. Room With A View
9. Tail Lights
10. The One You're Dreaming Of
Kelly Fahey kindly took the time to answer a few questions about the new album and what's in store for the band in the near future.
Hi Kelly! It's so cool to touch base with you about your new album Room With A View, which we're premiering in full right here. What musical styles are represented on the album?
KELLY: We're influenced by pretty wide range of classic psychedelia and '60s country, along with more contemporary artists such as Angel Olsen, Daniel Romano and Chris Cohen. We are into writing and listening to music that has a strong, melodic theme first and foremost.
What are some of the themes that you explore on the LP?
KELLY: Lyrically, these songs explore themes of transition and change, which is a constant in pretty much everyone's lives. Growing up, moving on and looking at life with a refreshed perspective were things that I was thinking about a lot while writing these songs.
How does this album differ or expand upon your previous LP, In The Garden from 2016? Did you incorporate different instrumentation or try out different recording processes?
KELLY: Luc and I recorded all of the instruments on In the Garden by ourselves over a very long and drawn out process. For Room with A View, each band member recorded their own parts. The songs developed over several months of playing live together, giving each member an opportunity to find their role in the songs. Then, we recorded it pretty quickly and kept the number of tracks to a minimum. We wanted to streamline the process and keep the songs uncluttered.
Are you planning to tour around the time of Room With A View's release?
KELLY: You can find our tour dates here
What else is in the works right now? Will you be releasing more singles or videos?
KELLY: No more singles off this record, though we will hopefully have one more video coming out after the album is released. We're playing a few new songs on tour (even newer than the album) and will probably just focus on learning more new material when we get back and try to book some more tour dates.
Lastly, does the album title have any connection to the E.M. Forster classic novel?
KELLY: I've never read the novel, but it's quite possible that I heard the name at some point and it could have stuck with me. It's also a line in a Talking Heads song. I wrote the line for another song I was working on years ago that never really got finished, so I recycled it. It's just a catchy little line that's been in my head for a while I guess!
ECHO COURTS – TOUR DATES
July 31 – Atlanta, GA at 529
August 1 – Asheville, NA at Odditorium
August 2 – Nashville, TN at The East Room
August 3 – Lexington, KY at Al's Bar
August 4 – Cincinnati, OH at The Comet
August 5 – Chicago, IL at The Hideout
August 6 – Detroit, MI at Trumbull Plex
August 7 – Toronto, ON at The Baby G
August 8 – Rochester, NY at The Bug Jar
August 10 – Brooklyn, NY at Our Wicked Lady
August 11 – Philadelphia, PA at Johnny Brenda's
August 12 – Baltimore, MD at The Crown
August 13 – Washington, DC at Songbyrd
August 14 – Richmond, VA at Gallery 5
August 15 – Raleigh, NC at Kings Barcade
Take a look and listen to the title track off the album:
Bandcamp
Facebook
Twitter
Instagram
SoundCloud
comments powered by