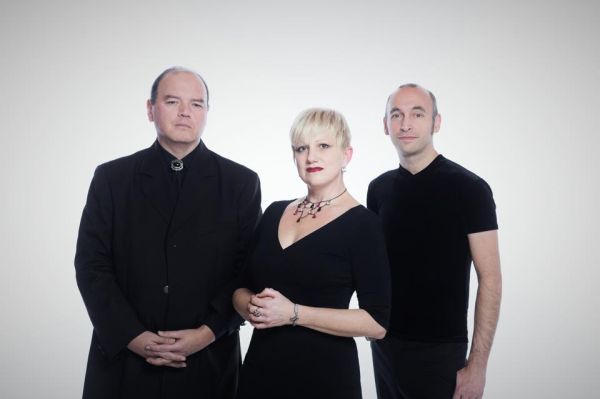 16 November 2017
autumn; Photo Credit: Craig Vanderschaegen
Deep, dark, and distanced…. Yet oh-so-close – ever-present. This is how you can describe the music The Big Takeover brings you today. Autumn is a band that has been around for more than two decades now, but you will be hearing more from them now that they are recording and releasing new material with tour plans in the works.
The Big Takeover is pleased to present to you autumn's new dark and dramatic maxi-single the fall, which is comprised of three tracks (hence the 'maxi'). They are putting this forth now as a teaser for their full-length album chandelier, which is expected to release via Chicago's Sett Records this coming February.
Autumn's roots are pretty clear and the apple doesn't fall far from the tree. This new release ought to appeal to peeps (and there are a lot of you, aren't there) who love The Cure, Siouxsie and the Banshees, and Sisters of Mercy. Several other artists could easily be named as sharing the same soundsphere – The Mission, Danielle Dax, The Danse Society, Peter Murphy, The March Violets, and Christian Death.
So it is not surprising to learn that William Faith, who is associated with the latter two acts (in addition to his mainstay* The Bellwether Syndicate* and also renowned Faith and the Muse) has had a hand in production for the band's new output. Faith, who produced autumn's debut LP back in 1996, also contributes a remix to this single (track 3).
Based in Minneapolis, autumn is Julie Plante (vocals), Jeff Leyda (bass), and Neil McKay (guitars). Since forming in 1994, autumn released two albums on Tess Records – the hating tree and return to the breath – with accompanying tours in support of each album before taking an extended hiatus.
"This release is about transition, both for the band's sound as well as our personal lives; love, loss, hope. The sound is more refined yet diverse in delivery styles. It appears the band had a few more things left to say, and our voices seem a little more confident this time around," says bassist Jeff Leyda.
Considering the lengthy hiatus (or period out of the spotlight in any case) between their second album and this new output, autumn's music sounds as fresh as ever. The first two tracks, "the fall" and "before and after", underline the dark emotional underbelly of alternative music, finding a sweet spot between post-punk, ethereal wave, and shimmery goth rock. William Faith's 'Broken RmX' transforms the "the fall" into a dancefloor-friendly track reminiscent of upbeat offerings from Garbage, Republica, and Sleeper.
If the forthcoming album sounds as good as this three-track teaser, this is certainly something to fill your ears with. The expected street date for that is February 14 for all you lovers out there. For now, you can order the fall via autumn's Bandcamp or enjoy it through the regular online stores and streaming platforms.
TRACK LIST
1. "the fall"
2. "before and after"
3. "the fall" (Broken RmX by William Faith)
Have a listen to some of the tracks autumn has released in the past and wonder what will come next with their impending album come 2018:
Bandcamp
Website
Facebook
Spotify
iTunes