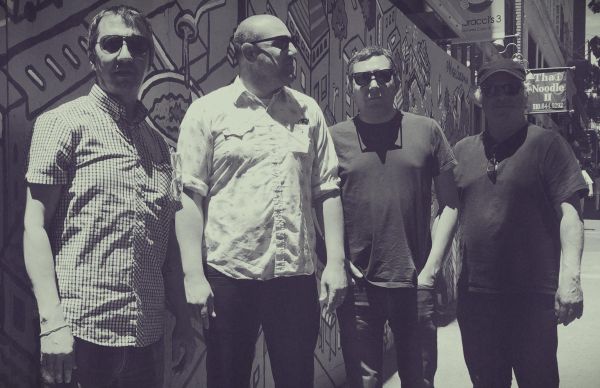 21 July 2017
Carta; Photo Courtesy of Carta
San Francisco-based Carta are back with their fourth album, The Sand Collector's Dream, due for release on July 28th via Saint Marie Records.
Dreampop/ambient outfit Carta was born in 2002 as a bedroom recording project by Kyle Monday, Jason Perez, and a revolving cast of San Francisco musicians.
Carta functions as a collective, trading off instruments, and even trading off vocals. Bassist Sacha Galvagna does most of the heavy lifting, but Kyle Monday and Jon DeRosa take lead on a couple of songs. Yet it's the vocals of Odessa Chen, blending with the men in a series of duets, that steals the show.
The evocative titled The Sand Collector's Dream is soaked in a despair that is both absolute and yet somehow uplifting. An album of vast stylistic breadth, the band's description of their sound as "paranoid inner-vacuum micro-dub and ruminative post-space hypno-drone" still doesn't convey it.
Just say it's the missing link between Another Green World and Young Marble Giants. Songs of water and ghosts, what the band so eloquently refers to as "the eternal internal struggle", they trace a journey from entanglement to solitude, from optimism to defeat. The whole album is permeated by an unsettling atmosphere, a subtle menacing feeling even if everything seems to go on straight ("It's Always As It Always Is", "Madeira", "Reasons To Be Fearful"…).
About the album's creation and recording process, Kyle Monday says: "The Sand Collector's Dream was crafted over the course of at least a year and a half. Originally we'd planned to record a backlog of band material that we'd stocked up, but in the end we wound up only using a few of those songs; many of the others were crafted in the studio on top of electronic pieces assembled initially by Gabriel Coan, who acted as the producer of the sessions as a whole. There was far more instrument swapping this time around; in the end, none of us are quite sure who played what. The act of listening to the record mimics the act of making the record; there's a purposeful haze over the entire album."
You can imagine Carta perched on a hill watching the Bay Area—all its bridges and ephemeral wealth— collapsing before them. They don't panic. They aren't in a rush. They've been expecting this. As Carta sing in their slow-burning stunner "Madeira," time is all they've got. Go make another pot of coffee. Call a few friends. This is the way the world ends—not with a bang, and not with a whimper, just beauty and regret.
The Sand Collector's Dream pre-order link at Saint Marie Recordds
comments powered by