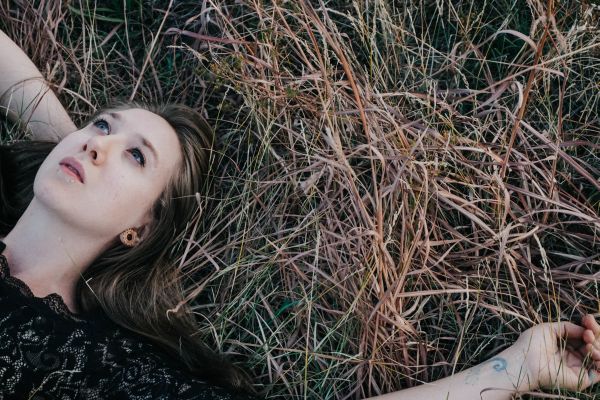 13 July 2018
Aya Maguire – Photo Credit: Caitlin Knight
Singer-songwriter Aya Maguire lives in Boulder, Colorado and writes songs crafted around the idea that music can translate emotion from one mind to another, bypassing the intangible barrier that surrounds each of us. Ranging from delicate and emotive to bold and passionate, Maguire's guitar picking and ethereal vocals invite listeners to inhabit the space outside of their protective walls.
Maguire's debut album, The Sandcastle King, which The Big Takeover is delighted to premiere, releases July 13th and it's the expression of her six years of growth, both as a writer and as a person. While the oldest track on the album, "There's No Such Thing As A Portland Thunderstorm", is a straightforward lament on lost love, the most recent song, "Colors", revisits the same theme with a completely new perspective: one of acceptance.
The title track itself is a contemplative meditation on the uselessness of holding onto the past; of the fact that all chapters eventually close. At its essence, the song asks what it means to hold onto a single identity when life shifts. Maguire reveals, "In releasing my debut album, I once again find myself closing a chapter and opening the door to the unknown, this time with those hard-won lessons behind me."
The Sandcastle King is an authentic work of artist Aya Maguire's heart, a showcase of the difficult and sometimes painful work of honing a craft and learning to be a better artist. "One learns in this process that not everything one feels can become good music – honest emotion is just one necessary component," Maguire explains.
Although she's played music since she was a small child, her songwriting career really began when she picked up a guitar her senior year of high school and found that songwriting could soothe her soul more than poetry or music alone. Since then she has been using songwriting as a means of understanding the world and distilling emotion.
She began sharing her music at her college open mic nights in Portland, and later at cafés in Seattle before moving to Boulder in 2015. Maguire's music has been described as a confessional, melodic blend of Iron & Wine and Joni Mitchell, drawing influence from the talents of artists such as Hozier, Feist, and the Tallest Man on Earth. In sharing her work, she hopes to find common ground with listeners while continuing to deepen and expand her musical expression
Website
Facebook
Instagram
Twitter
SoundCloud
YouTube
comments powered by