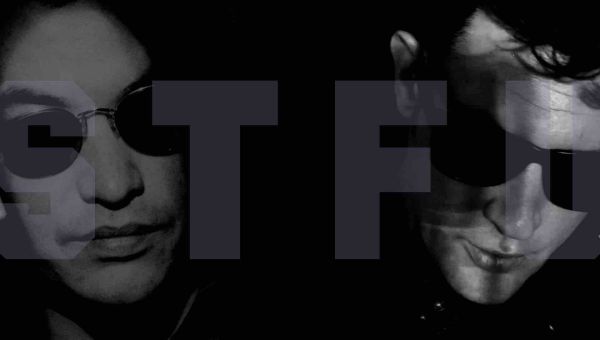 12 May 2018
Dean Garcia and Preston Maddox of S T F U; Photo courtesy of S T F U
A couple of years ago we introduced you to What We Want, the debut album from S T F U, through an interview with each of the band's founders – Dean Garcia of Curve and SPC ECO and Preston Maddox of Bloody Knives.
Today The Big Takeover has the extreme pleasure of premiering their new double album release. YUM 1 and YUM 2 bring Garcia and Maddox's innovation to a new level. The two albums are like kin, recommended for listening back to back. YUM 1 is more song-oriented and YUM 2 is seemingly more dance-driven. Both are outstanding and mesmerizing, but that comes as no surprise.
"I love both records for different reasons", explains Dean Garcia. "Working with Preston, without doubt, makes for the most painless and connected recordings I have made outside of my close family. It's almost as if the records make themselves as in there was never any doubt or soul searching as to what it should, could or want to be… it just was it's own self from start to finish, we just made it happen."
Garcia continues, "Working on the Yum record was very similar in that most of the recordings were done and mixed in the first few months, we left them to gestate as we did before, we added a few tracks sparingly during the following few months and just let them be. I worked on other projects and came back to them with the idea that the mixes were all well and good, done even, but I wanted to explore them again with a different angle in mind, more minimal and less abrasive, lean on beats and voice, with sub tones and more air and space, like a dubbed out version."
Apart from his nearly 15-year history with Curve and his decade long project SPC ECO with daughter Rose Berlin, Dean Garcia has also toured the world several times and recorded multiple albums with such established artists as Eurythmics, Mick Jagger, Jeff Beck, Bryan Ferry, Sinead O'Connor, and Ian Dury. A renowned electronic maverick producer, recordist, and composer, Garcia is also the founding member of Blurred City Lights, Das Bleep, and M A D.
"This record came together a little slower than the last, or rather more patiently than the last, mainly because I was pushing myself to develop vocally to meet the vibe of the songs," explains Preston Maddox. "On What We Want there was an initial combination of styles where one could hear one voice and then another, this record shows the process and development of a focused and new sound that is more a combination of its parts rather than the sum of them. I was trying to push my vocals some to include more rhythm and focusing on tying phrases together that speed the phrase up at the end of it and create winding rhythms that circle in on themselves like a whirpool. More rhythmic and less lyrical."
Maddox continues, "I've always wanted to make dance music but not EDM, or whatever they call that mass of soulless crap that sounds like a boring party in a major city. I have a love for ground level recording and music, things made on instruments that are not good enough and recorded on whatever is affordable. Technology used beyond its intended purpose. Especially with early electronic music, as there was no blueprint then, no technological support, that was all dedicated to guitar rock then. Skinny Puppy and DJ Screw live in the same musical universe in my world, to me the degrees of separation there are quite small, the authenticity is what matters most. A lot of the demos that Dean was sending me sounded like dirty south rap and trap, and old school house music, so the type of shoegothgaze singing I typically do just isn't gonna work, it needed some new style added in. The most fun part for me was taking on those beats with a new vocal approach. On the last record I pulled inspiration for the lyrics from a set of old horror comics from the '50s and '60s, I'd find a phrase of theme and work from that. On this one I just approached the mic with a blank slate and worked from the melodies first and then tried to find the words."
While their many commonalities and common circle of friends are what originally brought these two artists together, the debut S T F U album came to life in two separate studios. London is now home for Dean Garcia, while Preston Maddox is based in Austin, Texas.
The new set of albums is being made available exclusively via S T F U's Bandcamp
S T F U
Facebook
Instagram
Bandcamp
Soundcloud
comments powered by