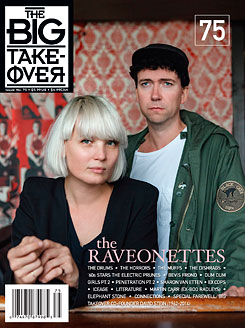 6 November 2014
Once again the big news is that Big Takeover #75 Fall 2014 issue was completed in Brooklyn, NY, and Oakland, CA, this month! The issue stars The Raveonettes on the cover, and features the concluding part twos of our awesome, long interviews with last issue's cover stars The Dum Dum Girls and Pauline Murray and Neale Floyd of original English punks Penetration, as well as fabulous history interviews with '60s Nuggets stars The Electric Prunes and Vancouver late'70s all-female punk rockers The Dishrags, while catching up with The Horrors, The Drums, The Muffs' Kim Shattuck, and The Bevis Frond mainman Nick Saloman. And there're shorter chats with Sharon Van Etten, Ex Cops, Iceage, Literature, Martin Carr (ex-Boo Radleys), Elephant Stone, Connections, and more!
It will begin shipping any day now, so you should see it quite soon! And remember, we only come our twice a year, every Spring and Fall, so you don't want to miss one of our jam-packed 140-page issues! Below is a quick description of its contents.
And since X-mas and Hanukkah are coming, here's the perfect gift for that music loving friend or family member, you can cross off your list early! A Big Takeover subscription—or back issues, t-shirts, CDs (Springhouse, Even Worse, Last Burning Embers, Doug Gillard, EDP, Non-Linear Thinkers), and our other fun stuff like Big Takeover beer cozies, magnets, buttons, signed posters, etc.—might be just the thing! (Even for babies and little children: in addition to our four men's and three women's sizes, we now offer six children's sizes, 2T, 3T, 4T, and onesies 6 months, 12 months, and 18 months! For the cool kid in your world!)
IMPORTANT: If you are a subscriber and you need to update your address, please tell us right away, as we need to have the shipping order ASAP. Send updates to me at jrabid@bigtakeover.com
And since the issue will soon be shipped to subscribers and stores, now is an excellent time to pre-order it if you would like to receive it, or subscribe if you've been meaning to, or renew your subscription if it has run out.
If you want to subscribe or renew or give the gift that keeps on giving, just go to our secure online store (and feel free to indicate which issue you'd like to start with (or have your friends start with), issue 73 (Johnny Marr cover) issue 74 (Dum Dum Girls cover), or the upcoming 75 (Raveonettes cover). It's only $20 for four issues (save 23% off the newsstand price including average sales tax), or $32 for overseas, or $26 for Canada. Or, for those in the U.S. you can send us a check made out to "Big Takeover" for $20 to the following address:
The Big Takeover
1713 8th Ave. Suite 1-4
Brooklyn, NY 11215
Or if you want to pre-order just the upcoming issue 75, you can send us a check for $6 to that address (or paypal to jrabid@bigtakeover.com) or order online.
Here, again, is what's in the issue:
Interviews: The Raveonettes (cover), The Drums * The Horrors * The Muffs' Kim Shattuck * late '70s original Vancouver punks The Dishrags * '60s stars The Electric Prunes * The Bevis Frond's Nick Saloman * Dum Dum Girls' Dee Dee pt. 2 * Penetration's Pauline Murray and Neale Floyd pt. 2 * Sharon Van Etten * Ex Cops * Iceage * Literature * Martin Carr (ex-Boo Radleys), * Elephant Stone * Connections
Editorials: Rabid: "The Greatest Friendship of My Life and the Agony of Addiction; Big Takeover Co-Founder David Stein, 1962-2014" * Sommer: "Jack and Dave: Princes in the Kingdom of Outsiders" * Kelson: "Why 50-Year-Olds Are Still Going Out To See New Music"
Live Reviews: Buzzcocks * Paul Collins Beat * D.O.A. * Joanna Gruesome * Paul McCartney * Bob Mould * The Replacements * The Sharp Things * Stiff Little Fingers
CD Reviews: Allah-Lahs * Allo Darlin' * Alvvays * Beverly * Big Star * Bikini Kill * Black Swan Lane * Black Watch * Martin Carr * The Chills * Chrome * Cocoanut Groove * Co-Pilgrim * Cramps * Miles Davis * Dickies * Ani DiFranco * Roddy Frame * Gentlemen Rogues * Jigsaw Seen * Goat * La Sera * Lost Patrol * The History of Apple Pie * Jet Black * The House of Love * Toh Kay & Sycamore Smith * Fela Kuti * Willie Nelson * New Model Army * New Pornographers * Sinead O'Connor * Omi Palone * Roy Orbison * Augustus Pablo * Pale Lights * Persian Leaps * Posies * Proper Ornaments * The Saints * Savages * Ty Segal * Ravi Shankar * Sarah Silverman * Sloan * Slowness * Successful Failures * Teenage Fanclub * Deniz Tek * Ultimate Painting * Vibrators * Lucinda Williams * James Williamson * VA- Adrian Borland Tribute * VA-Looking For Johnny (Thunders documentary DVD) * VA- The Last Pogo Jumps Again ('77-'78 Toronto punk DVD) * and more!
Hope you all pre-order it, or buy it when it's out! And/or hope you subscribe, as that is still by far the best way to support the print magazines you love if you want them to keep going. It means a lot to them! And hope you can share the gift of reading with your friends!
Cheers!

Jack R