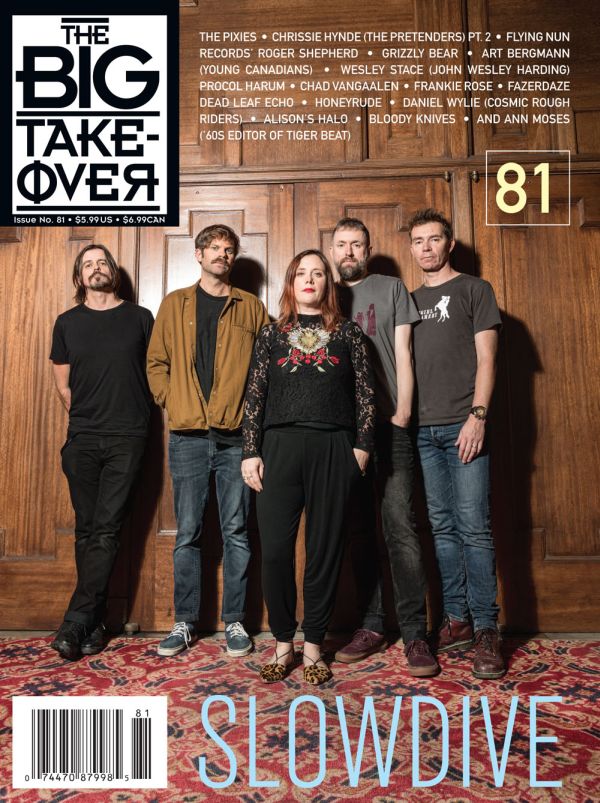 23 November 2017
Once again the big news is that Big Takeover #81 Fall 2017 issue was completed in Brooklyn, NY and Oakland, CA this month! The issue stars reunited English shoegaze/dreampop/indie rock stars Slowdive on the cover, and features fabulous history interviews with Roger Shephard of legendary New Zealand label Flying Nun Records, and original Vancouver punk Art Bergmann from The Young Canadians, as well as part two of our long, long interview with Chrissie Hynde of The Pretenders, plus '60s greats Procol Harum, The Pixies, Grizzly Bear, and Wesley Stace (formerly known as John Wesley Harding). And there are shorter chats with Chad VanGaalen, Frankie Rose, Fazerdaze, Dead Leaf Echo, Honeyrude, Daniel Wylie of Cosmic Rough Riders, Alison's Halo, Bloody Knives, and '60s editor of Tiger Beat, Ann Moses, and more! A full description of its contents is just below!
It will begin shipping any day now, so you should see it quite soon! Remember, we only come out twice a year, every Spring and Fall, so you don't want to miss one of our jam-packed 150-page issues!
(IMPORTANT: If you are a subscriber and you need to update your address, please tell us. Send updates to me at jrabid@bigtakeover.com)
And since the issue will soon be shipped to subscribers and stores, now is an excellent time to go to our secure online store to preorder it if you would like to receive it in the mail (You can also buy any or all of our 80 back issues there over 37 years, too!), or subscribe if you've been meaning to, or renew your subscription if it has run out.
And just a reminder that there's still time for the perfect holiday (or whatever) gift: Big Takeover magazine subscriptions and back issues!
And speaking of which, for more great such gifts, here's a reminder about our t-shirts, CDs, and our other fun stuff like Big Takeover beer cozies and signed posters—might be just the thing!
That's right, in time: Big Takeover issues, subscriptions, back issues, t-shirts in three colors: black, white, and burgundy red in thirteen sizes (including our new children's sizes, 2T, 3T, 4T, and 6MO, 12MO, and 18MO baby onesies!!!!! The coolest gifts ever for the kids!), and our accessories (BT beer cozies for only $5 and 12 X 18 color BT Anniversary Festival Posters for $4, which I will sign if you want me to!), as well as our related CDs (including the limited edition Springhouse CD album, From Now to OK), also make the perfect birthday, Christmas (or Hanukkah or other holiday) gifts! Especially in this time when we are all trying to economize.
This means our t-shirts still come in three colors (black, white, and dark red) and are only $14 for adult men, $13 for women, and $10 for kids's shirts and baby onesies, even including postage!).
Also, all but two of our back issues are still available (if your friends like a specific band we've featured, then there's always the mega-deluxe gift, the complete set of all of our 81 issues to date, including the two that are out of print!—see the back issues page and you will see that offer.)
And we are also offering used, good-quality CD copies of the three out of print SPRINGHOUSE CDs from 1991-1993, as well as sealed, limited edition art-package copies of Springhouse's 2008 third LP From Now to OK (see why it got an 86 in Paste!), and also CDs by EVEN WORSE, LAST BURNING EMBERS, DOUG GILLARD, NON-LINEAR THINKERS, and EDP!
If you want to subscribe or renew or give the gift that keeps on giving, just go to our subscribe (and feel free to indicate which issue you'd like to start with (or have your friends start with), issue 80 (Chrissie Hynde/Pretenders cover), the current 81 (Slowdive cover), or the Spring issue 82 (Lady Gaga cover—ha, just kidding. Just wanted to make sure you were still reading). It's only $20 for four issues (save 23% off the newsstand price including average sales tax), or $32 for overseas, or $26 for Canada. Or, for those in the U.S., you can send us a check made out to "Big Takeover" for $20 to the following address:
The Big Takeover
356 4th St. 2nd fl.
Brooklyn, NY 11215

Or if you want to order just issue 81, you can send us a check (or make PayPal payment to jrabid@bigtakeover.com) for $6 to that address or order it.
Here, again, is what's in the issue:
Interviews: Slowdive (cover) * The Pixies * Chrissie Hynde (The Pretenders) pt. 2 * Flying Nun Records' Roger Shepherd * Grizzly Bear * Art Bergmann (Young Canadians) * Wesley Stace (John Wesley Harding) * Procol Harum * Chad VanGaalen * Frankie Rose * Fazerdaze * Dead Leaf Echo * Honeyrude * Daniel Wylie (Cosmic Rough Riders) * Alison's Halo * Bloody Knives * Ann Moses ('60s editor of Tiger Beat)
Editorials: Rabid: "Shouldering Responsibility" * Sommer: "What Price Eden?" * Kelson: "The Remarkable Staying Power of the Album Format"
Live Reviews: Bash And Pop * Cut Worms * The Damned * Nick Lowe & Los Straitjackets * Paul McCartney * Martin Phillipps * Thee Sgt. Major III * Sebadoh * Slowdive * Tobin Sprout * Matthew Sweet
CD/Vinyl Reviews: 13 Frightened Girls * Agent Bla * Airiel * Arthur Alexander * Alvvays * American Darlings * Arcade Fire * Chris Bell * Big Star * Black Swan Lane * Broken Social Scene * Bye Bye Blackbirds * Glen Campbell * Ch3 * Dream Syndicate * Ducks Deluxe * Ella Atlas * Even Worse * Fake Laugh * Flamin' Groovies * Gospelbeach * Granite Shore * Guided By Voices * Michael Head * Holy Tunics * John Lee Hooker * Isley Brothers * Joecephus & the George Jonestown Massacre * Lake Ruth * Latvian Radio * Len Price 3 * Jason Loewenstein * M.I.A. * Van Morrison * Motörhead * Os Mutantes * National Honor Society * New Sincerity Works * Offa Rex * Buck Owens * Peter Perrett * Lee "Scratch" Perry * Persian Leaps * Popguns * Elvis Presley * Rancid * Red Cities * Replacements * Rolling Stones * Rogue & Jaye * Royal Panics * Secret Shine * Side Eyes * Paul Simon * Sisters Of Mercy * Spectrums * Successful Failures * Sun Ra * Matthew Sweet * Richard Thompson * Tough Age * Triptides * Jane Weaver * Wedding Present * Brian Wilson * Link Wray * Frank Zappa & The Mothers Of Invention
(Lastly, thanks to our Patreon sponsors, who make our magazine and weekly radio "Big Takeover Show" at realpunkradio.com (all archived at bigtakeover.com/radio) viable, without whom we'd have to stop one or both! If you'd like to join them and help support and sponsor us, it is easily done at that Patreon site, or you can always send a check to "Big Takeover" to our address as a kind donation. We're very grateful!)
Hope you all buy the magazine now that it's out! And/or hope you subscribe, as that is still by far the best way to support the print magazines you love if you want them to keep going. It means a lot to them and us!
And hope you can share the gift of reading with your friends! If we can help you, let us know!
Cheers!
Jack R
comments powered by