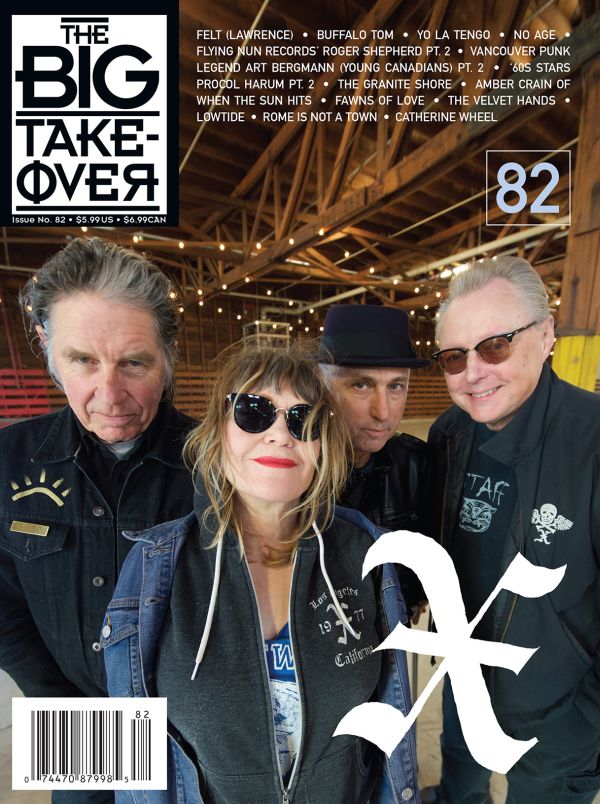 7 July 2018
Good news! Big Takeover #82 Spring 2018 issue is out on the stands! The issue stars 41-year Los Angeles punk/postpunk-era legends X on the cover, and featuring fabulous history interviews, with Roger Shephard of legendary New Zealand label Flying Nun Records pt. 2, original Vancouver punk Art Bergmann from The Young Canadians pt. 2, and '60s greats Procol Harum pt 2, plus Buffalo Tom, Yo La Tengo, No Age , and mysterious '80s Felt frontman Lawrence. Plus there're shorter chats with The Granite Shore, Amber Crain of the web's When the Sun Hits site, Fawns of Love, The Velvet Hands, Lowtide, Rome Is Not a Town,'90s shoegaze/dreampop greats Catherine Wheel, and more! A full description of its contents is just below!
Remember, we only come out twice a year, every Spring and Fall, so you don't want to miss one of our jam-packed 150-page issues!
And since the issue is now out, it's an excellent time to go to our secure online store to preorder it if you would like to receive it in the mail (you can also buy any or all of our 81 back issues there over 38 years, too!), or subscribe if you've been meaning to, or renew your subscription if it has run out.
And just a reminder that there's still time for the perfect gift: Big Takeover magazine subscriptions and back issues!
Speaking of which, for more great such gifts, here's a reminder about our t-shirts, CDs, and our other fun stuff like Big Takeover beer cozies and signed posters—might be just the thing!
That's right: Big Takeover issues, subscriptions, back issues, t-shirts in three colors, black, white, and burgundy red in thirteen sizes (including our new children's sizes, 2T, 3T, 4T, and 6MO, 12MO, and 18MO baby onesies!!!!! The coolest gift ever for the kids!), and our accessories (BT beer cozies for only $5 and 12 X 18 color BT Anniversary Festival Posters for $4, which I will sign if you want me to!), as well as our related CDs (including the limited edition Springhouse CD album, From Now to OK), also make the perfect birthday, Christmas (or Hanukkah, or other holiday) gifts! Especially in this time when we are all trying to economize.
This means our t-shirts still come in three colors (black, white, and dark red) and are only $14 for adult men, $13 for women, and $10 for kids' shirts and baby onesies, even including postage!).
Also, all but two of our back issues are still available (if your friends like a specific band we've featured; and there's always the mega-deluxe gift, the complete set of all of our 82 issues to date, including the two that are out of print!—see the back issues page and you will see that offer.)
And we are also offering used, good-quality CD copies of the three out of print SPRINGHOUSE CDs from 1991-1993 as well as sealed, limited edition art-package copies of Springhouse's 2008 third LP From Now to OK (see why it got an 86 in Paste!), as well as CDs by EVEN WORSE, LAST BURNING EMBERS, DOUG GILLARD, NON-LINEAR THINKERS and EDP!
If you want to subscribe or renew or give the gift that keeps on giving, just go to our online store (and feel free to indicate which issue you'd like to start with (or have your friends start with), issue 81 (Slowdive cover), the current 82 (X cover), or the Fall issue 83 (Weird Al Yankovic cover—ha, just kidding. Just wanted to make sure you were still reading). It's only $20 for four issues (save 23% off the newsstand price including average sales tax), or $32 for overseas, or $26 for Canada. Or, for those in the U.S. you can send us a check made out to "Big Takeover" for $20 to the following address:
The Big Takeover
356 4th St. 2nd fl.
Brooklyn, NY 11215
Or if you want to order just issue 82, you can send us a check (or make PayPal payment to jrabid@bigtakeover.com) for $6 to that address or order it.
Here, again, is what's in the issue:
Interviews: L.A. punk-era legends X (cover) * Felt (Lawrence) * Buffalo Tom * Yo La Tengo * No Age * Flying Nun Records' Roger Shepherd pt. 2 * Vancouver punk godfather and solo star Art Bergmann (Young Canadians) pt. 2 * '60s stars Procol Harum part 2 * The Granite Shore * Amber Crain of When the Sun Hits * Fawns of Love * The Velvet Hands * Lowtide * Rome Is Not a Town * Catherine Wheel
Editorials: "The Blue Wave Won't Happen Without You" * Sommer: "What is Left On The Final Day: Wire and Roth-era Van Halen" * Kelson: "Musical Context: You Had to Be There, or Did You?"
Live Reviews: Corin Ashley * Dead Boys * Eyelids * Guided By Voices * L.A.M.F. * Lake Ruth * Susanna * T.S.O.L. * Zero Boys * Billie Jo Armstrong & Friends
CD/Vinyl Reviews: Alberto y Lost Trios Paranoias * Louis Armstrong * Ants Ants Ants * Alice Bag * Joan Baez * Lou Barlow * Belle & Sebastian * Belly * Blankz * Breeders* Jon Brion * David Byrne * Calexico * Car Seat Headrest * Chatham Rise * Circle Jerks * The Choir * Gaz Coombes * Cut Worms * Holger Czukay * Damned * Decemberists * Dirty Sidewalks * D.O.A. * Donovan's Brain * Bob Dylan * Duke Ellington * Jeremy Enigk * The Fall * John Fogerty * Aretha Franklin * Fur Coats * Furious Seasons * Mike Gale * Allen Ginsberg * Isaac Hayes * Jimi Hendrix * Hookworms * Innocence Mission * Bert Jansch * Junior League * Femi Kuti/Seun Kuti * Lil Smokies * Lolly * Love * La Luz * Magic City Trio * Math and Physics Club * Moby * Wes Montgomery* Morrissey * Van Morrison * Bill Nelson * Willie Nelson * Nils * Elvis Presley * Pugwash * Ride * Salad Boys * Rat Scabies * Shifting Sands * Nina Simone * Shins * Shudder to Think * Sloan * Soft Science * Songs For Snakes * Mavis Staples * Successful Failures * Sunflower Bean * Superchunk * Television Personalities * Sister Rosetta Tharpe * Thin White Rope * Three Hour Tour * Thunderegg * Totally Mild * Trotsky Icepick * Jack White * Wipers * Zuider Zee * Matthew Sweet tribute
(Lastly, thanks to our Patreon sponsors, who make our magazine and weekly radio "Big Takeover Show" at realpunkradio.com (all archived at bigtakeover.com/radio) viable, without whom we'd have to stop one or both! If you'd like to join them and help support and sponsor us, it is easily done at that Patreon site, or you can always send a check to Big Takeover to our address as a kind donation. We're very grateful!)
Hope you all buy the magazine now it's out! And/or hope you subscribe, as that is still by far the best way to support the print magazines you love if you want them to keep going. It means a lot to them!
And hope you can share the gift of reading with your friends! If we can help you, let us know!
Cheers!
Jack R
(IMPORTANT: If you are a subscriber and you need to update your address, please tell us. Send updates to me at jrabid@bigtakeover.com