21 December 2015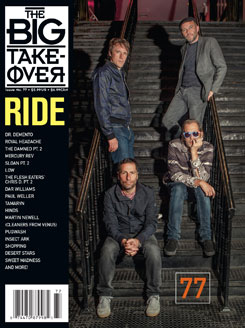 Hey all! Last call! Last chance for U.S.folks to send a gift Big Takeover subscription (or back issues or t-shirts in mens, women's, and yes, kids' sizes, or cds or merch) for X-mas from us! In fact, given this late date, I/we can send the first issue(s) (or package) via special 2-day priority mail, the extra postage costs on us, for any order $20 or over in order to get there before the 25th. Order today and that will do it! (Or, more chancy, but doable on our end at least, tomorrow!). Just have the subscription start with the new issue 77 with Ride on the cover (or #76 with Belle and Sebastian on the cover and we will start your friend or relative with both!), and put in the comments section, "rush for X-mas!!" (Or if you want to start them with the upcoming spring issue 78, we can send them a postcard.) Come and get us and happy holidays! And happy new year, too, from all of us at Big Takeover! Here's our previously posted info: ---- And just a reminder that there's still time for the perfect holiday gift: _Big Takeover_ magazine subscriptions and back issues!
Or other great X-mas gifts including four children's size t-shirts, men's and womens' shirts, beer cozies, magnets, 30th Anniversary Festival posters (signed if you want), buttons,and CDs (Springhouse, Even Worse, Doug Gillard, Last Burning Embers, etc.)!! Ho Ho Ho!
For back issues your friends and near ones might love, contact us via our secure online store back issues it if you would like to receive any in the mail, or subscribe if you've been meaning to get it for them (or yourself!), or renew your own or their subscription if it has run out.
Here's a reminder about our t-shirts, CDs, and our other fun stuff like Big Takeover beer cozies, magnets, buttons, signed posters, etc.--might be just the thing!
That's right, in time for the holiday: Big Takeover issues, subscriptions, back issues, t-shirts in three colors, black, white, and burgundy red in thirteen sizes (including our new children's sizes, 2T, 3T, 4T, and 6MO, 12MO, and 18MO baby onesies!!!!! The coolest X-mas gift ever for the kids!), and our accessories (BT beer cozies for only $5 and 12 X 18 color BT Anniversary Festival Posters for $4, which I will sign if you want me to!), as well as our related CDs (including the limited edition Springhouse CD album, From Now to OK), also make the perfect birthday and X-mas (or Hanukkah) gifts! Especially in this time when we are all trying to economize.
This means our t-shirts still come in three colors (black, white, and dark red) and are only $14 for adult men, $13 for women, and $10 for kids's shirts and baby onesies, even including postage!).
Also, all but two of our back issues are still available (if your friends like a specific band we've featured; and there's always the mega-deluxe gift, the complete set of all of our 77 issues to date, including the two that are out of print!--see the back issues page and you will see that offer.)
And we are also offering used, good-quality CD copies of the three out of print SPRINGHOUSE CDs from 1991-1993 as well as sealed, limited edition art-package copies of Springhouse's 2008 third LP _From Now to OK_ (see why it got an 86 in _Paste_!), as well as CDs by EVEN WORSE, LAST BURNING EMBERS, DOUG GILLARD, NON-LINEAR THINKERS and EDP!
If you want to subscribe or renew or give the gift that keeps on giving, just go to our "subscribe":http://shop.bigtakeover.com/collections/subscriptions/products/the-big-takeover-two-year-subscription-four-issues (and feel free to indicate which issue you'd like to start with (or have your friends start with), issue 76 (Belle & Sebastian cover), the current 77 (Ride cover), or the spring issue 78 (Adele cover--ha, just kidding. Just wanted to make sure you were still reading). It's only $20 for four issues (save 23% off the newsstand price including average sales tax), or $32 for overseas, or $26 for Canada. Or, for those in the U.S. you can send us a check made out to "Big Takeover" for $20 to the following address:
The Big Takeover
1713 8th Ave. Suite 3-2
Brooklyn, NY 11215
NOTE THIS IS OUR NEW ADDRESS!
Or if you want to order just issue 77, you can send us a check (or make payapal payment to jrabid@bigtakeover.com) for $6 to that address or order it.