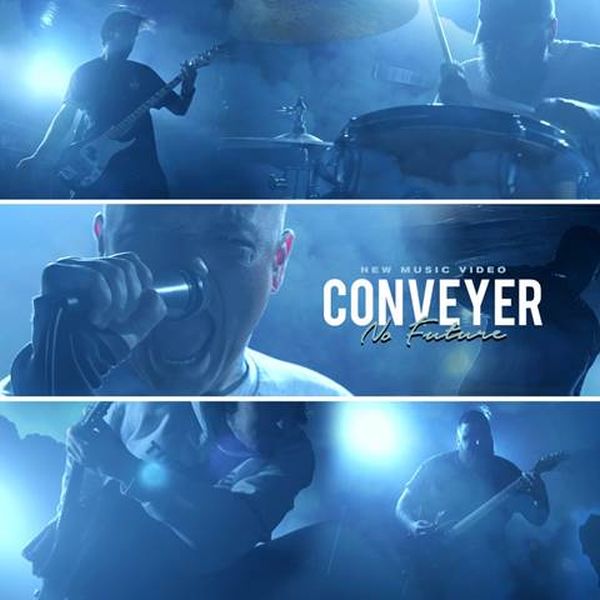 18 June 2017
Conveyer; "No Future" video stills
Eau Claire, Wisconsin-native melodic hardcore band Conveyer returns with a new voice on No Future, their brand new album set for release on June 23rd via Victory Records.
The powerful act has unloaded a string of singles ahead of the upcoming album, as well as an intense performance video for the title track.
Conveyer is the definition of the hardcore music genre in 2017. The video for "No Future" visually encapsulates what fans of the genre have been waiting for. An ode to crashing dreams and forgotten plans of the future, vocalist Danny Adams spells it out, ""No Future" is the title track for the record because we felt it had to be as straight-forward as the meaning behind it."
"Human beings are meant to exist in a perfect place, but we've somehow deprived ourselves of the desire to venerate perfect things," Adams explains. "I'm constantly reminded that I'm unequipped to accept that my existence is limited to this life. It's also not a typical sounding Conveyer song – we wanted to bleed out some older influences like Buried Alive and Figure Four."
Conveyer entered Silver Bullet Studio in Connecticut with producer Greg Thomas (Shai Hulud, Misery Signals, With Honor) this past January. "This was the first record that we have ever worked on with a producer and we couldn't be happier with how it came out," guitarist Ty Brooks discloses. "Our goal with No Future was to capture the energy and passion of a Conveyer live show on record."
Currently a month deep into their first tour behind the album, Conveyer will wrap up next week with a hometown album release show, and new US and international dates will be announced soon.
CONVEYER ON TOUR 2017
6/18 – Shiprock, NM – Asterix
6/19 – Salt Lake City, UT – Bee Hive
6/20 – Denver, CO – Moon Room (Summit)
6/21 – Merriam, KS – Aftershock
6/22 – Omaha, NE – Lookout Lounge
6/23 – Burnsville, MN – The Garage
6/24 – Eau Claire, WI – The Plus