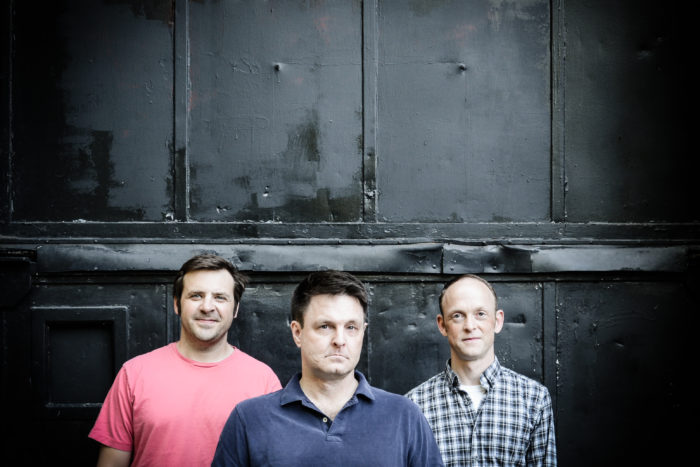 22 September 2017
The Persian Leaps; Photo Credit: Drew Johnson
The Persian Leaps, the indie rock/ power pop band from Saint Paul, Minnesota, is releasing its fifth EP, Bicycle Face, today via Land Ski Records. This EP completes the band's "five-year mission" – five, five-song EPs, over five years; a notable accomplishment in itself, they also held an impressively disciplined schedule of releasing on schedule every fall. With past releases gaining praise from the likes of NME, MAGNET Magazine, Impose, and many others, Bicycle Face is an immediate record for your "must listen" pile. "I think it's our most cohesive release yet. It's jangle and riffs, straight-through," reflects band founder Drew Forsberg. "If you like The Smiths, Guided by Voices, or Teenage Fanclub, you'll appreciate what we do."
Forsberg (vocals, guitar) has kindly taken the time and effort to detail the new EP with his track-by-track rundown that gives a behind-the-scenes view of the making of Bicycle Face.
TRACK BY TRACK: The Persian Leaps Bicycle Face EP:
1) "Picture My Reaction"
"Sometimes you write a song and realize "Oh hey, I just wrote a ___ song," where "___" is another band/artist whose style/sound you've unintentionally channeled. I think the best thing to do in those cases is to honor the accident. In the case of "Picture My Reaction," I realized pretty quickly that I was writing a Guided By Voices song so I embraced it."
"The song itself is about that intoxicating, electric rush you feel when you're around someone special, early on in a relationship. I almost never write love songs, so it's an unusual topic for The Persian Leaps. But the song is more about the chemical reaction rather than the sentimental, emotional aspects of love."
"We have an unwritten rule about only using vocals, guitar, bass, and drums, but I was very tempted to add a big wall of horns that come in during the bits between the verses. Maybe on the dance remix?"
2) "On the Downside"
"This song is from the point of view of chronic losers who are so used to disappointment that they've become numb to it. "Things just fell apart again? Ho-hum—must be a Tuesday." I don't think it was intentional, but the song probably channels my growing frustration with the music industry in this oversaturated, post-technology age. Every release requires such a huge investment of time, effort, and emotions, only to be greeted with crickets. Tumbleweeds."
3) "Even Less"
"Here's a Persian Leaps specialty—a very upbeat, catchy song with almost comically depressing lyrics. It's a song from the point of view of a man who's ruined a budding relationship, after which, he concludes in the chorus that "If I was nothing when I was with you, I'm even less than that right now." My 14-year-old son, Nathan, helped us sing the "ba-ba" background vocal parts. We've actually made a video for this song, which takes the premise of the chorus to an absurd, surreal extreme; stay tuned for it!"
4) "About the Lions"
""About the Lions" is about that friend who goes through life gracefully and effortlessly, undaunted by challenges and unafraid of consequences. Let's be honest—that friend can be annoying. Maybe they're inspiring, but mostly, they're irritating because they set an impossibly high standard that you and I can never reach."
"Lyrics aside, the main riff in this song is really fun to play. It starts with one of the "rocking-est" chords I know, an A5 way high up the neck. I use that chord a lot and will continue to explore ways to use it moving forward."
5) "Pushpins"
""Pushpins" is unusual for us because we've never recorded a song that's so spare—at least in the verses. It's just my vocals and palm-muted guitar. I wanted an ominous feel to the verses before the more typical chorus comes crashing in. It's not clear to me exactly what oppressive force or system the narrator is singing about that keeps him pinned in place like an insect mounted for display, but I'm proud of the little twist I threw into the chorus. Here's a guy who can't breathe or move, yet his captors are still afraid of him: "You know I can't move now, so what are you scared of?" There's a metaphor in there for modern society somewhere…"
Bicycle Face is out now via Land Ski Records; it is available digitally on all major retailers, and on CD at LandSkiRecords.com. The band will celebrate tonight with a release show at the 331 Club in Minneapolis, MN. The show is free, 21+ and doors at 9:30pm.
comments powered by