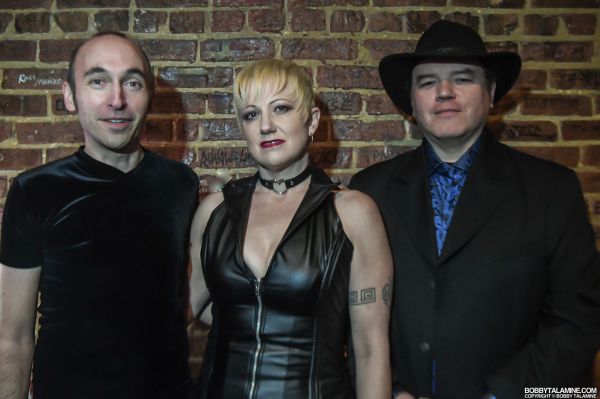 31 July 2018
Autumn – Photo credit: Bobby Talamine
In the past few years, The Big Takeover has been quite an array of post-punk and goth rock bands from both sides of the Atlantic, but today we speak of a band who is U.S.-based, but whose upcoming U.S. tour may bring them just a stone's throw away from you (note: do not throw stones, bring roses).
Currently based in Minneapolis, Autumn is a band that has been around for more than two decades now. We introduced you to their new album Chandelier It was released via Chicago's Sett Records earlier this year. They most recently toured select dates in the U.S. and Canada with 4AD music legends Clan of Xymox. This is the band's first major headlining tour in several decades.
"When Autumn played our official "last show" in April 2010 in support of our dear friends in Faith and the Muse, we imagined we would go through a period of grieving and then just move on with our lives. It seemed it was time to take a break. We each were going through very painful breakups in our lives, and were exhausted from trying to keep it all going," says Autumn vocalist Julie Plante.
"Turns out, moving on meant finding our way back to each other, and in the process, finding out that what is broken is never really gone. What falls apart can be put back together, not the same as it was before, but into a whole new creation. Chandelier is ultimately a work of celebration, built out of all those broken pieces, built from all those broken places. The story It tells is really everyone's story, that joy and pain are inevitably entwined in a life well lived."
Autumn's roots are pretty clear and the apple doesn't fall far from the tree. This new release is right up the alley of those who love The Cure, Siouxsie and the Banshees, and Sisters of Mercy, as well as The Mission, Danielle Dax, The Danse Society, Peter Murphy, The March Violets, and Christian Death.
In fact, William Faith, who is associated with the latter two acts (in addition to his mainstays The Bellwether Syndicate and Faith and the Muse) produced this new record. Having also produced Autumn's debut LP back in 1996, also contributes a remix to complement their recent single 'The Fall'.
Autumn is Julie Plante (vocals), Jeff Leyda (bass), and Neil McKay (guitars). Since forming in 1994, autumn released two albums on Tess Records – the hating tree and return to the breath – with accompanying tours in support of each album before taking an extended hiatus.
"This release is about transition, both for the band's sound as well as our personal lives; love, loss, hope. The sound is more refined yet diverse in delivery styles. It appears the band had a few more things left to say, and our voices seem a little more confident this time around," says bassist Jeff Leyda.
Autumn's music embodies the dark emotional underbelly of alternative music, finding a sweet spot between post-punk, ethereal wave, and shimmery goth rock.
Autumn Chandelier is now available on regular online stores and streaming platforms, including their own Bandcamp. More detailed tour information and links to tickets can be found here
TOUR DATES
Mon, August 13 • Columbus, OH • Ruby Tuesday
Tue, August 14 • Pittsburgh, PA • Howlers
Wed, August 15 • Toronto, ON • Rivoli
Fri, August 17 • Brooklyn, NY • Underworld (at St Vitus)
Sat, August 18 • Washington, DC • (TBA)
Sun, August 19 • Boston, MA • Middle East (upstairs)
Tue, August 21 • Athens, GA • Flicker Bar
Thu, August 23 • San Antonio, TX • Disorder (at The Amp Room)
Fri, August 24 • Austin, TX • Elysium
Sat, August 25 • Dallas, TX • (TBA)
Sun, August 26 • Tulsa, OK • Starlite Bar
Tue, August 28 • Kansas City, MO • (TBA)
Wed, August 29 • St Louis, MO • The Crack Fox
Thu, August 30 • Indianapolis, IN • The Bishop in Bloomington, IN
Sat, September 1 • Chicago, IL • Nocturna (at Metro)
Have a listen to some of the tracks they've released in the past:
Autumn
Bandcamp
Website
Facebook
Twitter
Spotify
iTunes
comments powered by