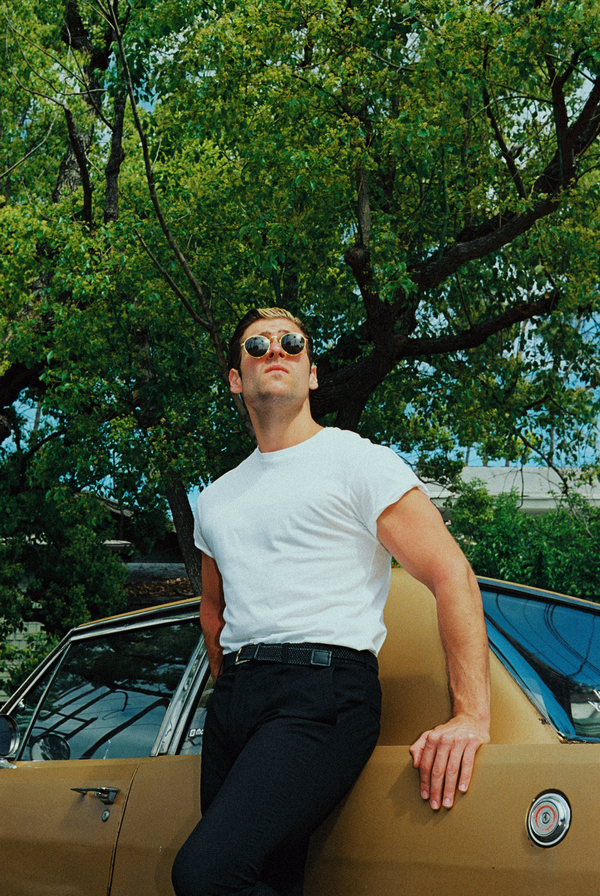 17 July 2017
Joseph of Mercury; Photo Credit: Gemma Warren
Rising Toronto-based artist Joseph of Mercury, the moniker of songwriter and producer Joseph W. Salusbury, bowed to much buzz earlier this year with early cuts "Without Words," "Young Thing," and "Find You Inside," the title track of his upcoming debut solo EP, due this summer.
The crooner's deep baritone and melancholic, heart-rending synth-pop is a glorious slow burn that recalls a wide range of influences, from David Bowie and Elvis Presley to Future Islands and Lower Dens.
Before the project's recent start, Salusbury earned a bevy of songwriting and production credits, including co-writes on Majid Jordan's "Something About You" and Illangelo's "Your Future's Not Mine," as well as producing the vocals on Nelly Furtado & Blood Orange's cassette collaboration "Hadron Collider."
Salusbury has just unveiled an alluring film noir-steeped music video for "Find Me Inside", which was shot in the desert and directed by Gemma Warren and Jackson Parrell. The clip tracks the singer-songwriter through a series of snapshot vignettes that weave in and out of frame and are interspersed by still images of the stark desert landscape.
"As a photographer working in motion, it's rare to have the opportunity to work on a project that ties the two worlds of cinema and stills so closely together so it was a dream to approach the video so photographically," Warren says of the video. "My Director of Photography Jackson and I are both really anal about compositions and this was a meditative experience given the setting."
When asked what his 5 most favorite music videos were, the in-demand Joseph of Mercury graciously took the time and thought to reply with the following details:
Well… I would say that there are just far too many to choose from, not to mention whole films like The Graduate, which is basically one very long Simon & Garfunkel video… So I'm going to unapologetically add to your question, & limit myself to "Favourite Videos" of the last 3 years… otherwise 5 will very quickly expand to 50 & no one has time to read an article that long.
These are in no particular order, but I will start with the most recently released:
1. Moses Sumney – "Doomed"
I actually had the pleasure of having a few amazing conversations with Moses about art & music & the ever- broadening creative demands of musicians these days. This happened long before I'd ever listened to his music; certainly before I had ever seen any of his videos. From the way he spoke, I knew immediately that I would love his work; sometimes you just get a sense of things. When I did finally listen, I can say that I was blown away, & then it happened again when I had the chance to see him perform live at FORM ARCOSANTI.
It just so happens that "Doomed" was one of the standouts of the show for me. To be honest, I wasn't sure that any visual besides him there on the stage, in an amphitheatre, in the heat-soaked dessert, would be able to measure up. But this video is so otherworldly & intimate, & yet by the end you feel so far away, that you're driven back to the beginning just to get close again. That circular experience – I really appreciate the design of that journey, & just his work in general, so this is certainly a recent favourite.
2. MSTRKRFT – "Runaway"
This may become a bit of a pattern… but I actually work quite a bit with AL-P form MSTRKRFT, & I had been for over a year before I ever listened to any of his music (I am apparently a terrible audience member…). I actually came across his music through discovering this video. It immediately spoke to me, the seething late '70s colour & styling, the song that in the video possesses the dancer, possessed me in very much the same way. I was also rather entertained by the fact that I had just been in a room with its creator for the past 13 months entirely clueless to the power of his previous work. From there I back-tracked through all his music, & that's how it is; music videos can be such a great way in to knowing the artists that we soon come to love.
3. Spike Jonze Perfume Commercial For Kenzo
This one isn't technically a music video, but it certainly is in terms of format; & I'm sure that Sam Spiegel & Ape Drums have happily adopted it as one. It really reminds me of the classic Fat Boy Slim video for "Weapon of Choice", Christopher Walken's cult god gravity-defying cameo. Both take such austere & unapproachable environments & turn them into playgrounds of movement. The result being that every time I now find myself in such a space (a concert hall, museum, or hotel lobby), I can't help but imagine breaking into a run, climbing up the walls, diving off a balcony, & flying through the air. There's something to the reckless freedom of these videos that really stays with you, & it's something I really appreciate.
4. Solange – "Cranes In The Sky
So personally, I'm pretty excited & captivated by what seems to be a real movement of artists theses days, bringing whole worlds to life around them. Many have in the history of music, but this is certainly its own era; Beyonce's visual album, Frank Ocean had his, the follow-up "Nikes" was almost uncomfortably brilliant. However, I think that Solange, to me at least, is really in her own strata. She took the stage after Moses Sumney at FORM ARCOSANTI & it was honestly one of, if not the most, compelling musical performances I have ever seen. That energy & subtlety & again almost uncomfortably brilliant attention to detail, is a thread that goes through all her work (the video is the show, is the music, is the video, etc…). At the end of the day, I'm just very grateful that someone, that she, decided that all this should exist, because that's the only reason that it does. In regard to great art, I think it's important to remember that… So yes, definitely a recent favourite.
5. Majid Jordan – "Her"
This one I bring up admittedly because of the hometown angle, the Toronto wave, but also because of my particular proximity to it, & to me that can often be a barrier to enjoying something. The idea that you can't help but think about "how" something was made & that it ultimately distracts you from "what" has been made. In this case Jamie Webster the director, the stylist, the incomparable Jessica Albano, the DOP, the guy in post, most of the girls, the boys Majid & Jordan themselves; they're all friends & collaborators of mine.
Toronto as a city is growing very quickly, but for those in the creative community it's still a very small world; & often, as I said, it can be a barrier to really knowing the true experience of the unbiased spectator. With "Her" they so perfectly succeeded in overpowering, & shattering that barrier for me. I was so drawn in to this infinite monochromatic world of symmetry & angles, that I forgot to think about "how" it was made, by whom it was made; it was just so much more important "that" it was made. Now a few years older, it's still a video that I can go back to, & still be impressed by, which is a nice sentiment to end on, I think.
Facebook
Twitter
Instagram
SoundCloud
Spotify
iTunes
Official Site
comments powered by