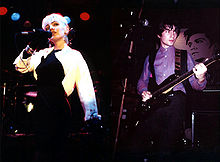 6 May 2010
I am ridiculously excited about going to the PRIMITIVES' show at Bell House on Saturday. They broke up in 1992, then reunited in October 2009 (minus bassist/guitarist STEVE DULLAGHAN, who had died in February), so unsurprisingly this is their first U.S. show in over twenty years (what is surprising is that this is the only currently scheduled U.S. show – out-of-towners, check Amtrack/Greyhound schedules or fill your gas tanks).
Morrissey cited them as a favorite, but really, who doesn't like them? Their 1988 debut album Lovely, with its hit single "Crash," still sounds great, as does the follow-up, Pure. Lovely showed more musical range than much of the competition, particularly the exotic touches of "Shadow." Still, it was the jangly guitars of PAUL "PJ" COURT and Dullaghan (sometimes with a little Jesus & Mary Chain-style distortion) and the high, pure, pretty voice of blue-eyed beauty TRACY TRACY that were the main attraction, the perfect unity of poised beauty and headlong rush, a cross-decade hybrid of girl-group and shoegaze-tinged Britpop. "Nothing Left," "Out of Read," "I'll Stick with You," and "Run Baby Run" are other highlights, while Pure yielded gems including "Way Behind Me" and "Sick of It." Galore (1991), alas, was judged such a disappointment that it wasn't even released in the U.S. That half of it was produced by IAN BROUDIE is intriguing, and I'd love to hear its closing cover (I assume) of garage-rock classic "The Little Black Egg."
Since reuniting, the band has started working with producer PAUL SAMPSON, who worked on Lovely, on a new album that will supposedly consist of covers of obscure female-sung songs. That should make song identification at Saturday's show quite a challenge! Also on the bill are FRANKIE & THE OUTS and PALOMAR. Things kick off at 7:30; the Primitives are scheduled to go on at 9.