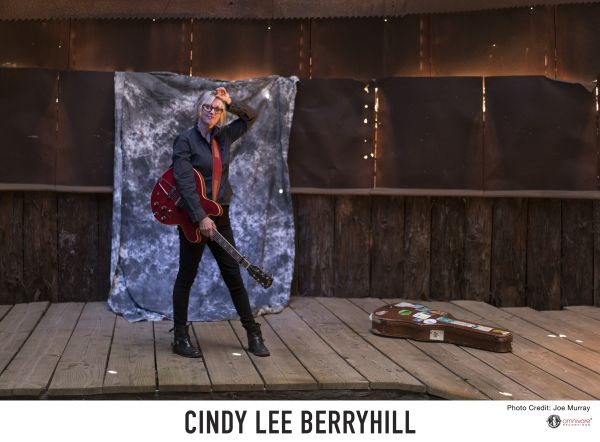 6 February 2017
Cindy Lee Berryhill; Photo Credit: Joe Murray
Cindy Lee Berryhill marks an absorbing, affecting, and intimate return to record-making with her upcoming album The Adventurist, an ambitious song cycle set for release by Omnivore Recordings on March 10, 2017.
The acclaimed Encinitas, California-based singer-songwriter/guitarist has elegantly crafted a batch of new original compositions, her first release since 2007's Beloved Stranger, and the songs are a loving celebration of the life of her late husband, Crawdaddy! magazine founder/publisher (and prototype rock critic) Paul Williams, who suffered a tragic accident that led to dementia and his eventual death. It took Berryhill a while to regroup and write again, and this album, which was written and recorded over the course of the last five years, is the result.
Berryhill says, "I vowed to write Paul a song cycle. Not songs of sadness or the despair I'd felt, but songs that reflected the love I had for him, and a remembering back to the enormous flood of feelings we'd had on meeting and courting."
"It's about going from the partner you've always wanted to be with," she adds, "to acceptance, and the realization that that isn't going to be anymore, and the scrambling that happens, and the various levels of grieving, which includes restlessness…"
Berryhill was able to call upon a few close friends for musical support: David Schwartz, Sheldon Gomberg, Ben Moore, Lee Ray, singer-songwriter Syd Straw, Probyn Gregory and Nelson Bragg of Brian Wilson's band, DJ Bonebrake of X, and David J Carpenter of Dead Rock West.
The Big Takeover is proud to premiere "American Cinematographer", the opening track of the album. It's an Americana-steeped symphonic number full of bold instrumentation, from the emphatic drum strikes, cymbal smashes, and strong piano notes to the strum of a multitude of stringed instruments. Berryhill matter-of-factly navigates through the sonically textured territory, declaring her intent, that "In a small frame / I'll paint a big story."
And that she does to dazzling effect throughout The Adventurist.
comments powered by