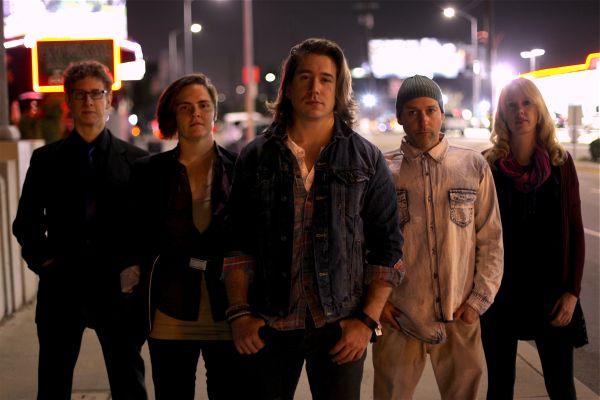 4 July 2018
Alex U'Ren (bass), Lee (piano), Greg Gilman (guitar), Marty Vites (guitar), and Alexa Brinkschulte, (drums) of Greg in Good Company – Photo Credit: Wolf Turner
Celebrate our independence the "American Way" with romping roots rockers Greg in Good Company!
It's a perfect day to premiere the title track from their forthcoming album, American Way, which comes out July 20th. The LP is chock full of freewheeling imagery that encapsulates the frustration and transformation currently taking place in our country. The song details our current socio-political hubris, prodding the listener to sit up and pay attention without skimping on the booty-shaking groove.
Greg in Good Company sound a bit like a countrified version of The Black Keys, delivering torrid riffs laced with fevered vocals and a healthy dose of twang. It's evident this group of friends have a hell of a time creating together, making one yearn for the kind of collaborative communal experience they are so clearly manifesting on this record.
It's interesting to note that the band's inception began with principle songwriter Greg Gilman performing filthy, satirical ballads at comedy clubs. Obviously he had some more substantial songs to sing, yet it took the 'good company' he now keeps today to push him into this new, emotionally authentic direction.
Website
Facebook
Twitter
Instagram
YouTube
comments powered by