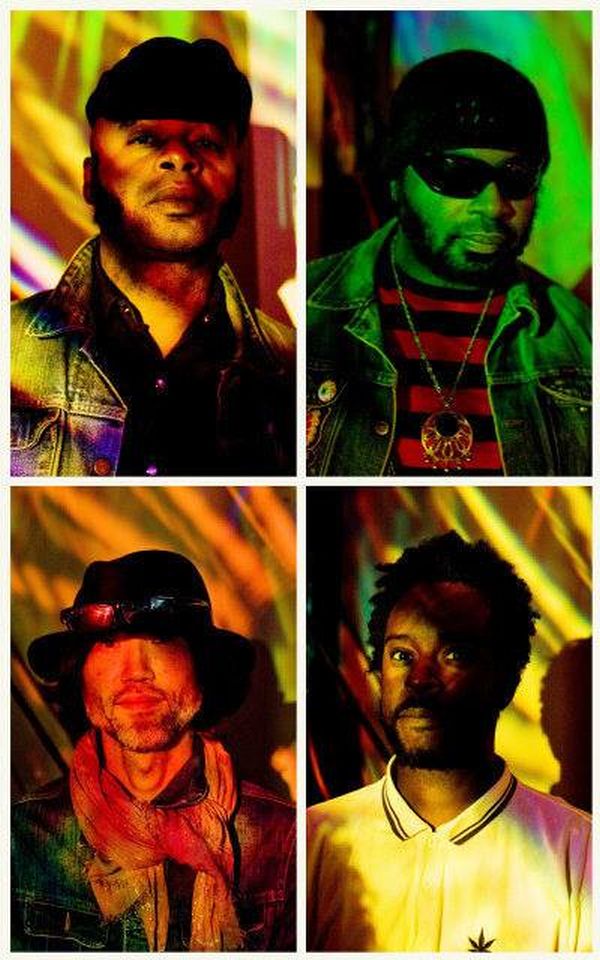 7 March 2017
The Veldt; Photo Credit: Ed Marshall
The Big Takeover is pleased to premiere "And It's You", a beautiful sonic tapestry from American shoegaze mainstays The Veldt With gossamer production by Rudy Tambala of A.R. Kane this beautiful track is intoxicating and dreamy, as to be expected from any track involving the latter 4AD / One Little Indian dream-pop pioneer. There is also something here enticingly reminiscent of Massive Attack.
This track is lifted from The Veldt's EP The Shocking Fuzz of Your Electric Fur, which will get a worldwide release on June 2 via Schoolkids Records, home to artists such as Adam Franklin and Swervedriver, Tommy Keene, and Bettie Serveert, and with a history of collaboration with artists such as New Model Army, Daniel Lanois, and Emm Gryner.
This coming weekend, The Veldt kicks off a tour with alternative iconic pop duo Phantogram in support of this release. This six-date joint tour kicks off on Saturday, March 11 at Chicago's Riviera Theatre, followed by dates in St. Paul, MN (Palace Theatre), Madison, WI (Orpheum Theater), Urbana, IL (Canopy Club), Cincinnati, OH (Bogart's), and Atlanta, GA (The Tabernacle). Tour details are provided below.
The Veldt formed in the late '80s in Raleigh amongst the royalty of the legendary North Carolina music scene, including bands such as Superchunk, Archers of Loaf, The Connell*s, *Dillon Fence, The dBs, Squirrel Nut Zippers, and Ryan Adams. Pitchfork recently included their album Afrodisiac in the top 50 shoegaze albums ever released. Today their musical output is in the same ballpark as A.R.Kane, Cocteau Twins, Massive Attack, and The Jesus and Mary Chain.
Signed to Capitol Records in 1989 and eventually Mercury Records, The Veldt embarked on a musical journey that changed their lives. The soon found themselves in the studio with dream-gaze guru Robin Guthrie, touring America with Cocteau Twins and the UK with The Jesus and Mary Chain and working with leading producers Lincoln Fong of Moose on their debut album Marigolds, and Ray Schulman (Bjork, The Sugarcubes, The Sundays) on Afrodisiac. The Veldt were a sensation from the start and part of a movement of innovators who came of musical age at a time when rhythmic rebels were reflective, gritty, and wild. Their sound inspired future generations of alternative artists, including TV On the Radio.
The Veldt have collaborated with TV On The Radio, Mos Def, The Jesus and Mary Chain, Lady Miss Kier (Deee-Lite), and most recently with A.R.Kane, and have shared the stage with the likes of The Pixies, Throwing Muses, Echo & the Bunnymen, Cocteau Twins, Manic Street Preachers, The Jesus and Mary Chain, Oasis, and Living Colour.
The band reformed in 2016 and their new EP started to make the rounds with a 2016 vinyl release via Manchester's Leonard Skully Records. Their return was met with incredible enthusiasm and significant press attention, including from The Guardian (UK), who say, "…the new songs invite paradoxical praise: serenely assaultive and vertiginously soothing." In the past year, the band did a mini-tour with The Brian Jonestown Massacre, embarked on two Canadian tours, and toured and played multiple festivals across Europe.
TOUR DATES
Saturday, March 11: Chicago, IL – Riviera Theatre
Sunday, March 12: St Paul, MN – Palace Theatre
Monday, March 13: Madison, WI – Orpheum Theatre
Tuesday, March 14: Urbana, IL – Canopy Club
Thursday, March 16: Cincinnati, OH – Bogart's
Friday, March 17: Atlanta GA – The Tabernacle
Also indulge in two videos released in support of this EP – "Sanctified" was created by NYC-based photographer Ed Marshall and '"n a Quiet Room'"was created by Toshikazu Kaneiwa , a NYC-based indie filmmaker hailing from Tokyo, Japan.
The Veldt
Website
Facebook
Twitter
Bandcamp
YouTube
Soundcloud
Reverbnation
comments powered by