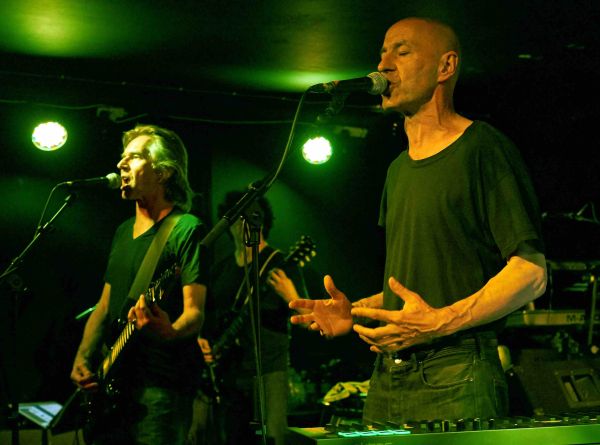 24 April 2018
Shriekback – live; Photo Credit: Karen Moskowitz
Today The Big Takeover has the pleasure of premiering "And The Rain", the first single off of the forthcoming album by renowned British new wave / dark rock legends Shriekback. The LP, titled Why Anything? Why This?, is slated for release on May 25th.
The foreboding "And The Rain" is infectious and rhythmically restless – while the verses hold the same dark attraction as "Nemesis", things are slowed down somewhere in a Southern desert rock tempo with refrains quite reminiscent of the best output of Midnight Oil. Peter Garrett's vocals are an easy reference point here before diving back into Barry Andrews' swampy gothic near-chanting.
Shriekback was formed in 1980 by ex-XTC keyboardist Barry Andrews and bassist Dave Allen upon his departure from the Gang Of Four, in collaboration with guitarist Carl Marsh from Out On Blue Six. Under the auspices of the visionary Y Records (label-mates included The Slits, The Pop Group and Pigbag), the group found their voice experimenting in EMI Music's KPM demo studio in London's Denmark Street, refining a uniquely recognizable sound in 1982 on their first full-length album Care and eventually achieving wider recognition with the singles "Lined Up" and "My Spine (Is The Bassline)". They were joined by Martyn Barker on drums in 1983.
A move to a major label, Arista, allowed this sound to be fully realized on the 1985 album Oil & Gold, a milestone album that remains the band's best-known (helped by the success of the single "Nemesis") and the foundation of their popularity on the US college circuit and elsewhere.
The new album is their 14th studio album, which boasts a wide, organic, and detailed sound, is already being described by early listeners as their best since the landmark album Oil & Gold. The sound is dense, woody, and fibrous. Here we find evolved Bo Diddley beats and African blues. However you describe it, this is Shriekback refocused, reinvented, and reinvigorated.
The band have also pushed themselves musically and sonically – Barry contributes a lot of guitar, Carl has essayed some slide guitar and keyboards and Martyn has brought in a whole arsenal of world percussion alongside his drumkit. Regular Shriekback listeners will hear more guitars and live drums and fewer loops and electronics. The sonic palette is very broad.
Written, performed, and produced almost exclusively by the core trio, this is very much a 'band' album, crafted over time with the members working in their own studios, as well as in group sessions at Yellow Fish and Echo Zoo studios to capture live drums. But the writing and production on this release has been much more collaborative, with Martyn, in particular, having more input than previously.
New collaborator Scott Firth (of P.i.L) adds irrefutable bass to selected tracks; Shriekback regulars Wendy and Sarah Partridge contribute their always-invaluable backing vocals. Live drums were recorded by Ian Caple (who's been with Shriekback since the beginning) at Yellow Fish in Lewes and Christoph Skirl at Echo Zoo in Eastbourne. The album was mixed and mastered by Stuart Rowe in The Lighterthief Bunker, Swindon – his fifth Shriekback album in this role, an indication of the value placed on his objective ear and technical skill.
Why Anything? Why This? will be released on May 25th. Fans should keep an eye out for the album in all the usual digital stores and streaming platforms, as well as through the band's own store at their Website
How could we end on this note without a quick flashback to their brilliant '80s post-punk hit "Nemesis" and a little retrospective below?
SHRIEKBACK
Website
Facebook
Tumblr
Twitter
SoundCloud
Spotify
iTunes
YouTube
comments powered by