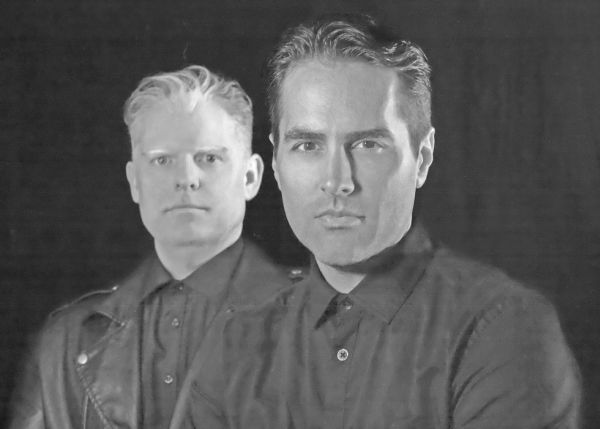 27 February 2018
Vandal Moon; Photo Credit:Nicole Fraser-Herron
If you were ever into The Psychedelic Furs, ABC, or Modern English, we had a line on your new favorite band. California-based duo Vandal Moon will be release of their new 8-track Wild Insane album and we have the pleasure of premiering the first single off that release, entitled "Baby Sounds".
Vandal Moon should also appeal to fans of The Chameleons, The Cure, New Order, and Gary Numan. Here we also find the charm of Julian Cope rolled up in a dance-pop delight more reminiscent of Human League.
The new album promises to be loaded with post-punk and new wave, with gothic undertones of the early 80's – "a fab find for lost souls and soundtrack for the post-traumatic stress of simply being a citizen in the 21st century," they say.
The first track gives every indication that this is so. Vandal Moon frontman Blake Voss says, "I cover a lot of themes of alienation and dystopia on the record. We're living through a dystopia right now. The internet is slowly killing us all with it's incessant input, and I think we know it. But we're so drawn to it, that we'll be damned if we can't convince ourselves otherwise. Myself included. I'm victim to our brave new world, and it came through on this record very naturally."
This is dark, delicious and a kick back to great 80s new wave synthpop – very much material that would be worthy of a 'Top of the Pops' session over in London.
Written and recorded by Blake Voss, the new Wild Insane album was produced and mixed by Shawn Ward (FM Attack), and mastered by Peter Maher (Depeche Mode, Nine Inch Nails, U2, Patti Smith, The Killers, Noel Gallagher). This record also features contributions from new romantic legend Logan Sky (Visage, Boy George), emerging synth-pop duo vverevvolf and vocalist Nicollette Vaughn (a.k.a. Nico), with guidance by electronic artist/producer Emika.
Based in Santa Cruz, Blake Voss formed Vandal Moon in 2012. Although he has collaborated with various artists over the years, it only recently morphed into a duo comprised of Voss (vocals, guitars, synthesizers and principal songwriter) and Jeremy Einsiedler (drum machines and synthesizers).
Recently, Vandal Moon won a Synthy Award from Echosynthetic for his 2017 collaboration with The G on "Stars That Fade" (from the Cosmopolis album). He also contributed vocals and guitar for "Braindead" on the new Electric Blue album from vverevvolf.
Wild Insane is a record colored by mindless self-indulgence. It might sound precious, but we wanted to block the world out.. lock ourselves in the studio, and yell and dance and lose our minds. Throw paint at the walls and see what sticks. In the end I believe we have created a very unintentional self-portrait.. warts and all. Sometimes it's best to just bang something out on a guitar and let your subconscious mind speak out. You'd be surprised how much is hiding up their in the attic of your mind. It's a good way to get to what's real. Don't over think it," says Blake Voss.
"I believe it's best get rid of the costume, get rid of the makeup, and reveal the form underneath. That's what this record is about. Our music is inspired by post-punk, and goth and new wave.. but it's none of these things. We're post everything. Post internet. Post subculture. We don't have a choice in the matter."
Starfield Music was created by synthwave vanguard artist FM Attack (a.k.a. Shawn Ward), who has had great success pioneering a sound and helping to develop the synthwave scene. Following up the release of his own album Stellar via this label, he is expanding upon that sound to take the music into new and different directions.
"The purpose behind developing Starfield Music, as a label, is to have a creative outlet to make music that isn't generic or relegated to one specific genre or style. I want to feel free to take my music in any direction, and help other artists to do the same," says Ward. "Since meeting Blake, I thought his music was the perfect sound for establishing the vision of 'Starfield Music' even further, and perhaps create something new while resurrecting some nostalgia from a lost and forgotten era."
Wild Insane will be released across digital stores and streaming platforms on April 20, but will already be available for pre-order via Bandcamp as of March 9 with "Baby Sounds" available for download immediately upon order.
Here is an aural glimpse into what is coming on the full-length:
And a taster of some of this artist's previous musical output:
Keep up with Vandal Moon
Website
Facebook
Twitter
YouTube
SoundCloud
Bandcamp
Spotify
iTunes
Keep up with Starfield Music / FM Attack
Starfield Music Facebook
FM Attack Music Facebook
Twitter
SoundCloud
YouTube
comments powered by