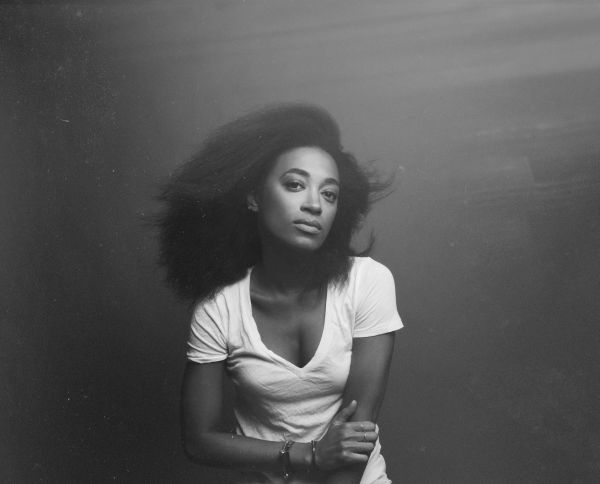 1 February 2018
Amanda Brown; Photo Credit: Shervin Lainez
Critically heralded performer and singer/songwriter, Amanda Brown is currently touring with The Killers and will be opening for them on select dates during their upcoming North American leg. Brown's long-awaited debut album, Dirty Water, is slated to be released in the spring of 2018 – and The Big Takeover is excited to premiere her bold and energetic first single "Believers."
Amanda Brown's appreciation for the liberating power of a song runs through Dirty Water. Bursting with both swagger and tenderness, the record is a triumphant collection of Brown's risk-taking, pop-savvy, finely honed rock-and-roll. "Strong reactions are what I want from people––it's not a lighthearted album," she says. "I want people to listen to the music and really love it or really hate it. That's what I want."
Dirty Water is the first full-length project for a still-young artist, but Brown has already built a career out of provoking intense reactions in high places. Brown captured the hearts of the public and press alike on Season 3 of NBC's The Voice. She garnered praise from the likes of Adam Levine, CeeLo Green, Blake Shelton, and Rob Thomas for her poised, yet raw renditions of classic songs. Fans clamored for her pop/rock covers and led her three times to Billboard top 100 and five times to iTunes top 40, with her renditions of "Dream On" and "Stars" reaching iTunes top 20.
Born and raised in the Bronx, New York, Brown began singing at an early age in her local church and community. Brown later attended New York City's FAME school, where she furthered her music studies and began honing her songwriting skills. National and international performances soon followed, allowing Brown to perform as a backing vocalist for world-renowned artists such as Alicia Keys, Stevie Wonder, Justin Timberlake, CeeLo Green, Lenny Kravitz, Jennifer Hudson, Kelly Rowland, and Gwen Stefani. She recently completed a world tour with Adele, ending in 2017.
Performing in live music venues throughout New York City is where Brown honed her solo performance skills and in 2011, she digitally released her first single, "Dreamer". She went on to record a single to benefit VH1 Save The Music ("Fly Away") and was a featured artist on the Identity Thief film soundtrack, performing her rendition of a James Brown classic ("Payback").
About "Believers", Brown states, "I'd say "Believers" makes me feel courageous and strong. Every time I turned on the television, I was saddened and frustrated by the news I saw and heard, so much so I simply stopped watching it – that sparked the idea for this song. "Believers" became an outlet for me to express my frustrations and inspires me to be more of an active participant in the world around me, if I care to see change. It allows be to truly believe in the power of hope and action."