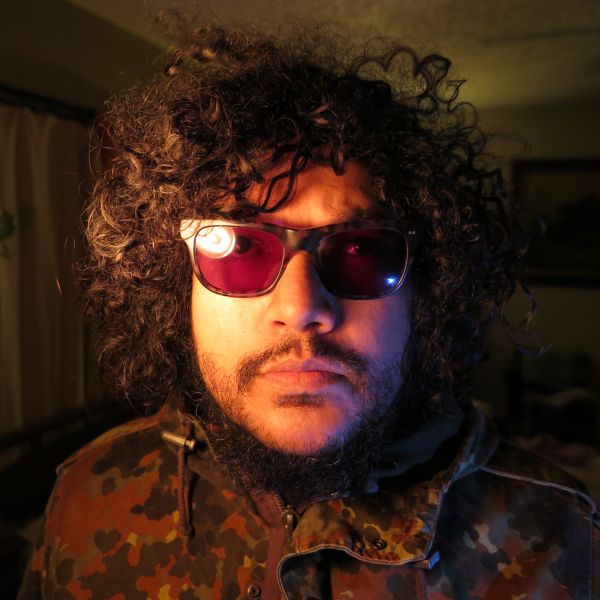 8 January 2018
Margaret Chavez (Marcus William Striplin); Photo Credit: Marcus William Striplin
"Black Ambulance" is taken from A Loupe, the 32-minute, continuously mixed, ten-track song cycle arriving under the name Margaret Chavez, a pseudonym that acts a memorial tribute to the mother of the album's creator, Austin, Texas-based songwriter Marcus William Striplin.
"I imagined Margaret as this badass superhero EMT that drives around the city helping and saving people despite their ways," Striplin says of the song. "It also gave me an excuse to ride the waves and have a proper guitar solo too!"
Striplin's name is familiar to anyone who has followed the indie rock scene that emerged out of Texas in the early 2000s, specifically Dallas, where he co-founded the band named after the suburb Pleasant Grove in 1999.
In its relatively brief half-decade-or-so initial run, Pleasant Grove earned praise for the "simmering psychedelia" (KUTX, 98.9) of its "songs of broken hearts and broken voices" (Dallas Observer) that, according to MOJO, mixed the "down and out ache of Texas country as well as the sonic outbursts of Neil Young." In a four-star review, UNCUT dubbed Pleasant Grove a "mark of excellence in modern Americana."
Consequence of Sound called Pleasant Grove's return "triumphant," the glossy Dallas-based monthly D Magazine proclaimed The Heart Contortionists "beautiful," describing songs with "an intensity that sneaks up on you and a heat that never goes away," and the Fort Worth Star-Telegram summed things up with a nod to Striplin specifically, saying Pleasant Grove's "melancholy folk-rock, blessed with shadows, brass and Striplin's plaintive voice — are breathtaking."
Two years later, Striplin has made a record that surpasses his best work.
A Loupe is everything a fan of Striplin's songwriting and arrangement ideas (here realized by visionary producer, Erik Wofford (Explosions In The Sky, The Black Angels) would expect and more. With the very personal context of a solo album to work in, the work is indeed, very personal, and A Loupe is better for this controlled creative environment.
Twenty-plus years of Striplin's recording life coalesce in these songs and stories about every kind of explosion and schism the heart can fathom.
Tour dates:
1/8/2018: Austin, TX at Beerland
1/19/2018: Dallas, TX at Good Records (In-store, Record Release Show)
1/26/2018: Fort Worth, TX at Twilite Lounge
1/27/2018: Denton, TX at Dan's Silverleaf
1/28/2018: Deep Ellum, TX at Twilite Lounge
Website
Facebook
Twitter
Bandcamp
Goliad