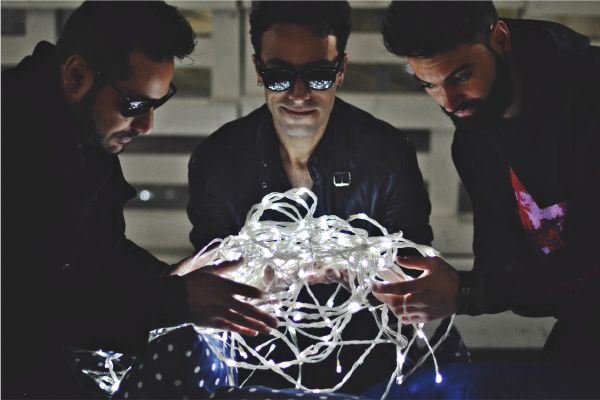 3 January 2017
Electric Floor; Photo Credit: Debora Chiarelli
While our geographic focus of this publication tends to be focused on English-speaking countries, it does happen every so often that we cover bands from further afield. Today is one such occasion as we explore the latest single from Italian new wave synth-rock trio Electric Floor
Today we premiere "Bluedive", the first single from the band's forthcoming EP, called Fader.
This track reveals vocals that is as compelling as Richard Butler from the Psychedelic Furs or Peter Murphy of Bauhaus fame set against an imaginary backdrop from The Cure and Images in Vogue. This track provides the first taste from this upcoming EP and will have to last for the time being because this release won't be happening until March through Europe's Vipchoyo Sound Factory label.
"Bluedive is like a surge – it was born during a bad period for us. Initially it was only messy ideas, but we gradually gave it form. The lyrics are suspended between romance and sadness, anger and exhortation," explains lead singer and guitarist Emanuele Chiarelli. "Just like the other songs, our lyrics in this one are very emotional and tidal."
Comprised of Emanuele Chiarelli (vocals/ guitar), Simone Costantino De Luca (programming/ keys), and Fabio Cosentino (bass), the band is based in the southern Italian city of Cosenza. The officially declared "City of Art" of Calabria, the band are centered in this cultural, historical, and artistic hub, which is is surrounded by mountains, valleys, hills, and hundreds of miles of spectacular coast. Definite inspiration points.
Fader will be the band's third album, with the band geared more towards an electronic sound on this release.
The latest few singles have brought them increased press and radio coverage in numerous countries, but Fader will likely see this attention explode due to the melting pot of synthpop, shoegaze, chillwave, and electrogaze it presents. "This selection of songs features tracks closely linked to each other with a common denominator in that they dive into our conscience," states Chiarelli.
De Luca, who handles programming and keyboards in Electric Floor, comments: "Everything starts from sound suggestion. Our biggest strength is setting the mood and our lyrics give it meaning. This EP is the result of a dialogue amongst ourselves. Every song on the forthcoming EP was written during the same period and we think this is a dead romantic album, after all."
The Fader EP will be available on CD via Vipchoyo Sound Factory, as well as on digital download and streaming platforms.
We also invite you to enjoy their previous single "My Bloody G".
ELECTRIC FLOOR
Facebook
Bandcamp
Twitter
Instagram
Soundcloud
YouTube
comments powered by