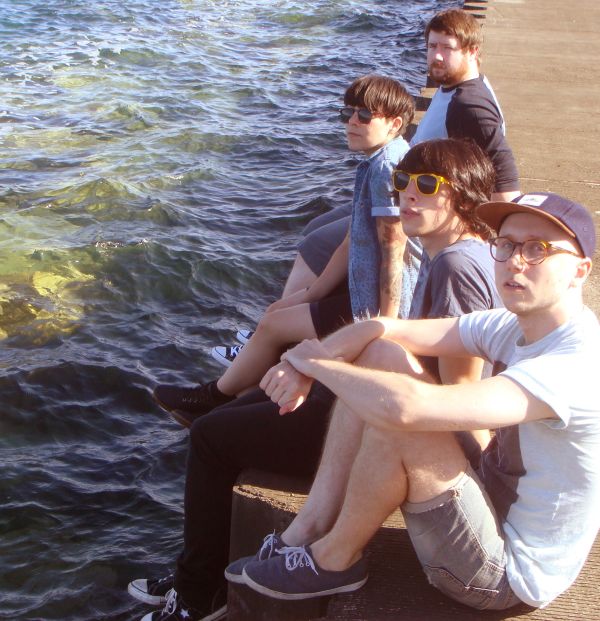 12 June 2017
Star Tropics; Photo Credit: Loren Vanderbilt
Following two captivating singles that the band has put out in the past, Chicago-based indie pop/dream-pop band Star Tropics will be releasing it debut full-length, Lost World, via Shelflife (US) and Fastcut Records (Japan) on July 7th. Lost World cements the band's pop songwriting prowess, and its nine tracks all have equal likelihood of ending up ingrained in your brain.
Formed after a chance meeting thanks to an early The Smiths b-side, Star Tropics have been playing shows since 2012, including a performance at the 2013 NYC Popfest.
Their previously released singles "By My Side" (b/w "Tempest") and "Summer Rain" (b/w "Swept Away") have established Star Tropics as a group that fans of dreamy, jangly pop with boy/girl vocals need to keep their eyes on.
With Lost World, Star Tropics is here to show established followers and newly earned fans alike that their talent isn't just confined to singles. The band has said that their sound can be characterized as "equal parts celebratory and introspective," enveloping the listener in warm nostalgia.
Lush guitars are painted over with a Rickenbacker lead, refreshingly melodic bassline, and the tantalizing tandem vocals of guitarist Nikki and bassist Loren – all sounds that the group employs beautifully throughout Lost World as a whole.
Star Tropics have created something memorable with Lost World and The Big Takeover is excited to premiere the moodily driven, but entrancingly lovely "Chapel Hill" off the album. Nostalgic reflection, a running bassline, sharp guitar chime, fast-shaken percussion, and propulsive drum beats create a lively, yet still brooding atmosphere on a track that recalls the greats like The Smiths, New Order, and Trembling Blue Stars.
The band has this to say about how "Chapel Hill" was created: ""Chapel Hill" came together pretty quickly while Scott and Loren were jamming to a bassline that Loren had been working on. We were originally unsure how the song would start out, but randomly their old bandmate Sean had just purchased a beautiful guitar on Craigslist that was making some very strange feedback due to some questionable wiring. The feedback would only happen randomly, but we loved the sound of it, so we recorded it to make the song's intro loop. That guitar is long gone at this point, possibly still floating around on Craigslist somewhere. Loren got the idea to use that feedback as an element of the composition after reading about Billy Corgan doing something similar when recording the Smashing Pumpkins' song "Mayonaise"."
Pre-Order Lost World at ShelfLife Records
Pre-Order Lost World at Fastcut Records
Official Site
Facebook
Twitter
Instagram
Tumblr
Bandcamp
SoundCloud
YouTube
comments powered by