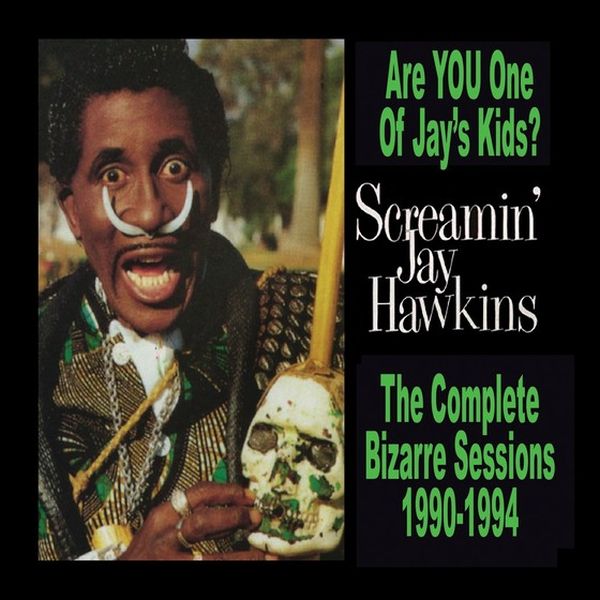 23 April 2018
Screamin' Jay Hawkins; Are YOU One of Jay's Kids?
The '90s musical legacy of rock 'n' roll wild man Screamin' Jay Hawkins will be comprehensively reconsidered on a totally untethered two-CD compilation, Are YOU One of Jay's Kids?, due from Manifesto Records on May 18th.
The set collates all 44 of the raving songs recorded by the late, legendary vocalist by producer and Bizarre Records partner and A&R man Robert Duffey, who also acted as Hawkins' manager during the period. The numbers first heard on Hawkins' original Bizarre albums — Black Music for White People (1991), Stone Crazy (1993), and Somethin' Funny Goin' On (1994) — are augmented by five previously unreleased bonus tracks. The set includes new liner notes by music journalist Chris Morris.
During the early '50s, Screamin' Jay Hawkins had recorded for such R&B labels as Timely, Mercury, Wing, and Grand; for the latter imprint, he wrote and recorded a smooth ballad, "I Put a Spell On You," which the company declined to release.
But the song became the touchstone of an astonishing career after it was re-recorded at a (purportedly) drunken session by Okeh Records A&R exec Arnold Maxin. The literally screamin' single never became a chart hit, but it endured as an underground classic, inspiring diverse covers by Nina Simone, Creedence Clearwater Revival, the Crazy World of Arthur Brown, and many others.
Hawkins would spend the next three-plus decades as rock's most formidable ogre: Carried onstage in a closed coffin, he would leap forth, with a bone stuck through his nose, to declaim such feats of dementia as "Little Demon," "Feast of the Mau Mau," and "Constipation Blues" for his agog audiences.
Besides his catalog of crazed records, Hawkins also left behind him a far-flung brood of illegitimate children numbering somewhere between 57 and 75 (thus inspiring the title of this collection,Are YOU One of Jay's Kids?).
Hawkins' association with Bizarre — the longest he ever enjoyed with a label — ended when the singer relocated to France, where he died in a Paris suburb on Feb. 12, 2000. His sessions for the label was his last significant time in the studio; as the rollicking music brought back to life on Are YOU One of Jay's Kids? proves, he remained completely capable of putting a spell on his listeners.
Take a listen to peppy throwback-'50s kicker "Clam Bake":
comments powered by