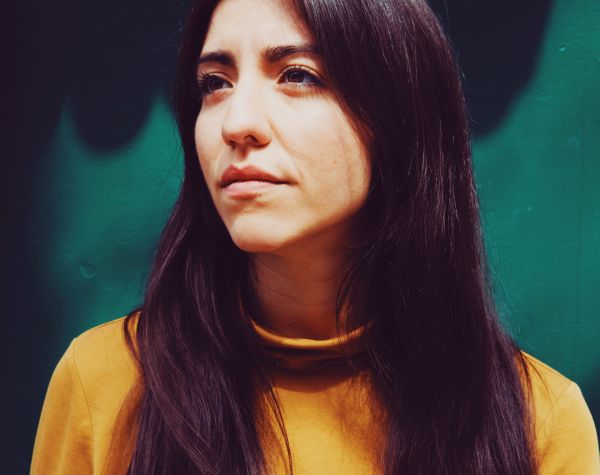 7 August 2018
Carli Naff – Photo Credit: Morgan Court
Hailing from Phoenix, Arizona, singer-songwriter Carli Naff is breaking musical barriers in a big way. When she moved to New York City three years ago to pursue a career in acting, she would have never thought it would lead to her writing music; she had never written a song before. As the songstress struggled to find creative fulfillment in auditioning, so took to busking in the echoey subway tunnels underneath the city. After several experiences with love, addiction, heartbreak, loss, and growth, she realized that she had 25 years worth of unwritten songs waiting to pour out of her….and she is stronger for it.
For her upcoming debut EP titled Horrible Talker, she worked on the record with friend and producer David Hagen to create an indie folk-rock sound which has been likened to Phoebe Bridgers, Fleetwood Mac, and Angel Olsen. Today she shares the first single from the release, "Clean," for the delight of our ears.
At the time she began writing for Horrible Talker, Carli had been struggling on and off with a vocal injury. She found that, in uncovering her artistic voice, she began to heal her physical and her inner voice. The inspiration for the EP's title came after an eventful appointment with a voice doctor, expressing the pain one feels when muting their own voice.
While in production of the record, Carli was approached by local guitarist Russell Castiglione after (almost) making him cry at an open mic performance. He and long-time band-mate Austin Deyo (drums) enthusiastically became the first members of Naff's band. They were later joined by Naff's close friends, Alex Lemonier (keys) and Kallan Campbell (bass).
About the song Naff reveals, ""Clean" is the first single from my upcoming EP. It was written after a "last straw" moment at the end of a relationship that had become toxic and cyclical. It definitely hits the most driving/alt-rock tone on the album, which is generally more folk-rock. It's a song for the pain that comes just before deciding to break an addiction."
Carli Naff's debut EP Horrible Talker, is out this Summer. Dive into "Clean" and fall head over heels for this noteworthy new artist.
Facebook
Website
Instagram
Spotify
comments powered by