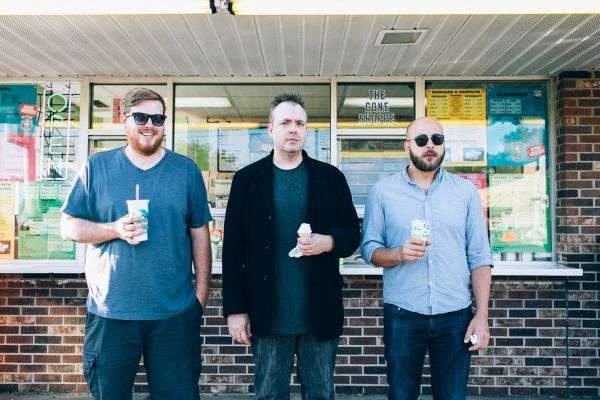 27 July 2017
Crash City Saints; Photo Credit: Pasagraphy
Hailing from Kalamazoo, Michigan, shoegaze/dream-pop/noise rock act Crash City Saints are back with the long awaited follow-up to Glow In The Dark Music, which inspired rave reviews back in 2010, with single "Out From The Storm" winning Song of the Day honors from KEXP.
Upcoming album Are You Free?, which comes out August 11th via Saint Marie Records, is something of a shoegaze Quadrophenia, telling the (autobiographical) story of a teenager growing up in a dead-end small town in the early '90s. And finding sort of a path to salvation by listening to bands like My Bloody Valentine, Smashing Pumpkins, Galaxie 500, and the whole Madchester scene.
The single"Dawn Of A Bright New Nothing", which The Big Takeover premieres here, features Cocteau Twins' Simon Raymonde on bass.
Joshua Garman of Crash City Saints explains the story behind the song and Raymonde's involvement, confiding, "One Saturday morning, as the cursed sun began to rise over the horizon, I was repulsed. It occurred to me this was how ghouls must feel. Recoiling in horror like a vampire from the light of day, I ran into the comfortable darkness of a friend's house. A few hours later, I drove to work. I remember being struck by the fact that it was a picturesque, oceanside drive with a beautiful sunrise and how glum and dull it looked to me. I think that was the moment when my honeymoon with Florida was officially over. Musically, this song was always from its earliest beginnings meant to be a tip of the hat to one of my all-time favorite bands, The Cocteau Twins, so the fact that somehow Simon Raymonde played the bass parts on it is absolutely mind-blowing to me. I will forever be grateful to him for helping make a dream come true."
Pre-order Are You Free? at Saint Marie Records
Facebook
Twitter
SoundCloud
Bandcamp
comments powered by