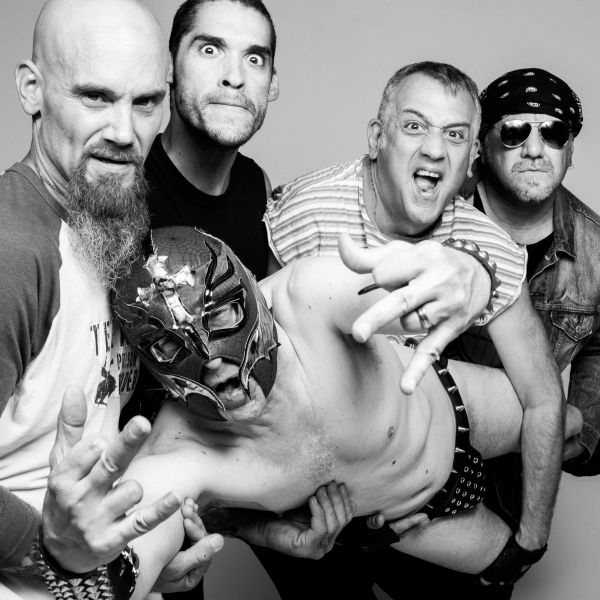 12 January 2018
Dwarves; Photo Credit: Cameron Postforoosh
Birthed in the garage rock revival of the 1980s and weened in the punk and grunge scenes of the 1990s, the Dwarves continue to entertain, shock, and mystify audiences all over the world with groundbreaking records and chaotic live performances.
The relentless middle-finger drive, catchy songwriting, and deft production that set the Dwarves apart have never sounded better, and with way over a thousand shows to their credit, there's really only one punk band left that matters!
Burger Records will be releasing the new album from the Dwarves, Take Back The Night, in early February. It's the band's first new album in 4 years (and the first full-length for Burger) and features longtime members Josh Freese (The Vandals, Devo) and Nick Oliveri (Queens of the Stone Age, Bl'ast) as well as original members Blag Dahlia, Hewhocannotbenamed, and Sgt Saltpeter.
The Big Takeover is thrilled to premiere a raw and explosive, but melodic cut off the upcoming album. Blag Dahlia reveals, "The song contrasts my melodic pop vocal with Nick Oliveri's psychotic monster vocal and showcases the punk yin and garage yang of the Dwarves sound. The Fresh Prince of Darkness, HeWhoCanNotBeNamed, Andy Now, and Hunter Down supply the noise along with songwriting drummer Josh 'PF' Freese."
Dwarves, the last punk band standing, delivers another classic for 2018 and beyond!
Pre-Order Take Back The Night at Burger Records
Website
Facebook
Twitter
Instagram
comments powered by