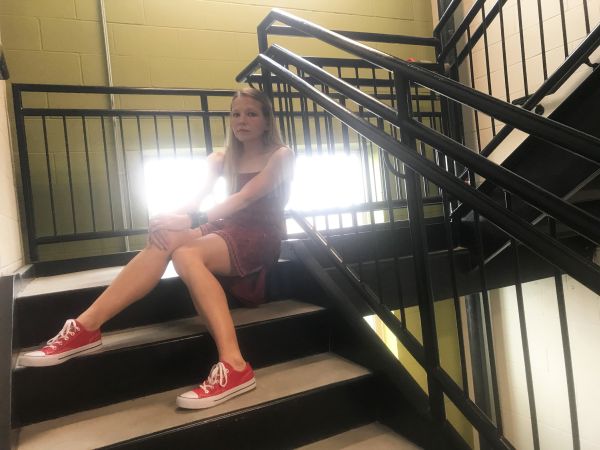 3 October 2017
Elizabeth Nelson of The Paranoid Style; Photo Credit: Tim, AKA Tad Unreasonable
On the heels of 2016's critically beloved garage-punk broadside Rolling Disclosure, Elizabeth Nelson returns with a new six-song EP, titled Underworld U.S.A., on October 27th via Bar/None Records. It features some of the sharpest, most far-reaching writing of her still young, but already storied career. Subtly pulling back the throttle from the full-force crunch of the previous LP, Underworld U.S.A. finds Nelson marinating in her long-held love for glam and jangle-rock on tracks like the infectious Mott -like piano romp of "Dominoes In Drag", which The Big Takeover premieres today.
Nelson explains, "The title comes from this Van Morrison song "Madame George" that I like a lot. I pretty much like all of Van Morrison's stuff, but "Madame George" is particularly poignant to me. Madame George is a drug addict and an outcast, but I always think she seems very beautiful to me and sometimes I have felt like maybe we could relate to each other. My song is more of a glam song though. I wrote it on the piano and I thought it'd be cool to have someone do like a rollicking Nicky Hopkins -style part, so I asked Peter Holsapple to play on it and he just killed it. We cut it live in maybe three or four takes."
She continues, "The lyrics are kind of about the days before I had a band or met my husband. I was a labor organizer, and that was and is a passion of mine. I traveled around a lot, saw so much of the country. I also got into a lot of mischief, a lot of late nights. I saw some stuff and did some stuff. I had so much energy. I was remembering that. And I was thinking to about how important the labor movement is and how much we've lost by betraying it. You know, it's all bundled up in there. It's a Paranoid Style song."
Nelson is a deeply political songwriter, but Underworld U.S.A. represents a warm, humane side to Nelson's work not as always fully in evidence in the raging releases Rolling Disclosure and Rock & Roll Just Can't Recall.
Underworld U.S.A., recorded with a backing band including Peter Holsapple of the dB's, Bruce Bennett of the A-Bones, and William Matheny of the Strange Constellations, is equal parts a loving meditation on the outsiders that Nelson considers her tribe and an angry condemnation of the venal malefactors who consistently threaten the country she loves.
Nelson reveals, "Underworld U.S.A. has two connotations. One is the corporate criminal cabal of monsters and mobsters like Trump and the Wall Street hucksters and the pharaohs building up the temples on the backs of the people. And then the second meaning is a positive connotation: the underground of artists and freedom fighters and working people and lowdowns on the social hierarchy that ultimately invest our world with so much meaning. Some songs are about the former and some are about the latter. That's what Underworld U.S.A. is about."
comments powered by