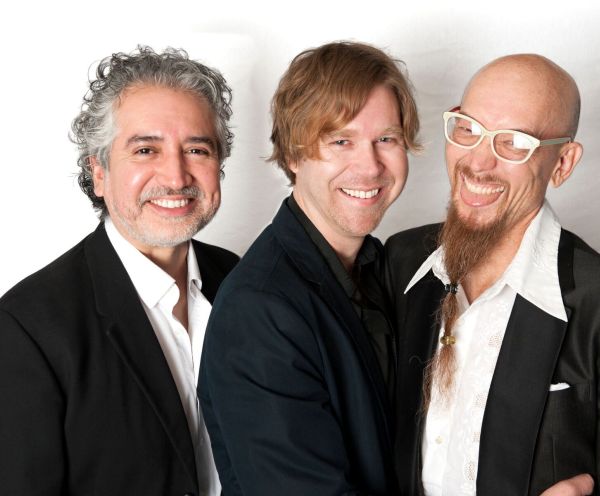 27 March 2017
Buttercup; Photo Credit: Ramin Samandari
On April 14th Buttercup will release their new album Battle of Flowers on Bedlam and Palo Santo Records.
Erik Sanden, bassist odie, and Grammy award-winning guitarist/producer Joe Reyes have spent over 15 years as members of the San Antonio-based Buttercup, at once a full-on rock machine and a performance art collective that NPR calls "jangly art rock for the left side of the brain."
Over 6 albums, a DVD, and countless genre-bending live shows, they've remained current and vital despite shifts in music tastes and technology. Battle of Flowers is their first release in 8 years. Sanden and Reyes's other band, Demitasse, released an album in 2015.
Brothers Emilio and Diego Navaira played drums and guitar on the album, but right as the record was finished, the Navairas' other music project, The Last Bandoleros, was chosen not only to perform on Sting's latest recording, but they were also asked to provide direct support for Sting's spring 2017 US/European tour. The sons of Tejano music legend Emilio Navaira Sr., the brothers added some South Texas muscle and musicality to the Buttercup sound. Sting just wanted a little bit of that too, and the band is okay with it.
The Big Takeover is proud to premiere the reflective, but powerful track "Don't Go It Alone" from Battle of Flowers. Reyes explains that the song, ""'Don't Go It Alone" was one of those songs that comes all at once, which feels more like your transcribing someone else's song, so, you double-check your records to make sure you aren't plagiarizing anyone."
Reyes continues, "It seems to lean in that Jason Lytle (Granddaddy), or perhaps Jason Martin (Starflyer 59), direction that I truly love – big hooks, softly sung, with lots of catchy guitar or keyboard adornments. It wasn't our intention to have the bridge sound like a bit of North Indian classical music; it kinda just happened. But something about the song's melody seemed to lend itself nicely to that treatment. One of my philosophy professors in college was the son-in-law of Nikil Banarjee who's one of my favorite musicians, so it's a little nod to him."
Official Site
Facebook
Twitter
Instagram
comments powered by