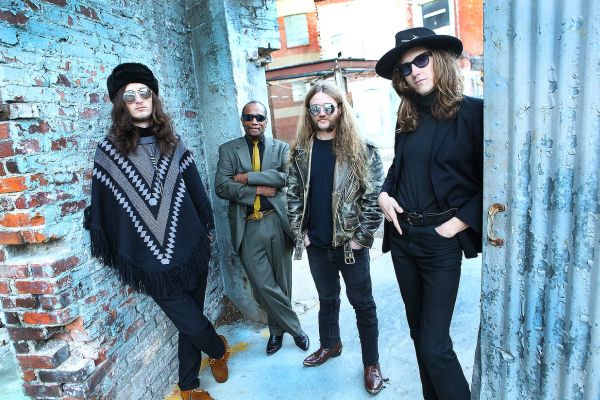 6 April 2017
The Blackfoot Gypsies; Photo Credit: Jeff Fasano
Nashville-based roots rockers The Blackfoot Gypsies will serve up To The Top, a hearty and energetic rock 'n' roll and blues platter with help from some of Nashville's finest talent, including red-hot singer Margo Price, on April 14th via Plowboy Records.
Across the 15 tracks of To the Top, The Blackfoot Gypsies fuse their influences — swamp blues cool, downhome hillbilly funk, and homegrown punk panache — into a lean, mean machine invoking such classic musical malcontents as the Rolling Stones, the Faces, and Mott the Hoople, while sparking and spitting 21st-century fire. It's the type of record that could only come from a band that learned to rock the old-fashioned way — one sweaty, full-throttle live performance at a time.
In 2010 Oregon native, guitarist and singer Matthew Paige moved to Nashville and hooked up with drummer and Music City native Zach Murphy. The pair wanted to form a full band, but the urge to rock could not wait. The pair spent the next two years building a reputation through raucous live performances and two self-released EPs, Blackfoot Gypsies (2010) and Dandee Cheeseball (2011), and their first LP, On the Loose (2012). Hard touring followed the album's release as the duo bashed across the South through hard-won club dates. After three years, they were ready to expand their sound.
They added Gettysburg, Pennsylvania native and bass player Dylan Whitlow, a veteran of several Nashville rock bands, and blues community veteran and harmonica master extraordinaire Ollie Dogg to the line-up. In 2015, the band delivered Handle It via Plowboy Records, a mix of juke joint blues, front porch pickin', and snotty-nosed rock 'n' roll, positioning the group as inheritors of a fine pedigree, from Bo Diddley to the Black Crowes. Long nights tearing up the road followed as the band shared bills with the Alabama Shakes, Drivin' N' Cryin', the Carolina Chocolate Drops, Trampled by Turtles, and many others.
After sharpening their sound through hundreds of live performances, the band headed for Electric Kite Studio in Madison, Tennessee, working with engineer Matt Stager on To the Top. They also recruited some notable musical assistance from some of Nashville's finest musicians, including back-up vocals from red-hot country queen Margo Price, Spencer Cullum, Jr. (Steelism) on steel guitar, Micah Hulscher on piano, Alexis Saski on background vocals, Taylor Powell and Shannon Pollard assisting on drums, and Paul Thacker, Diego Vasquez, and Joe Hunter supplying horn section support. The album was mixed by Joe Funderburk at Creative Workshop.
"Everybody's Watching" is a rip-roaring rocker that explodes with an energy worthy of the early '70s Rolling Stones or the Faces. Paige explains that, "I wrote that one in Chicago. It's got horns and Alexis Saski singing backup on that one with a good soul pumpin' vibe with an Exile On Main Street feel." It showcases the band's blend of rock, blues and hillbilly stomp and proves that The Blackfoot Gypsies are locked and loaded to rock.
comments powered by