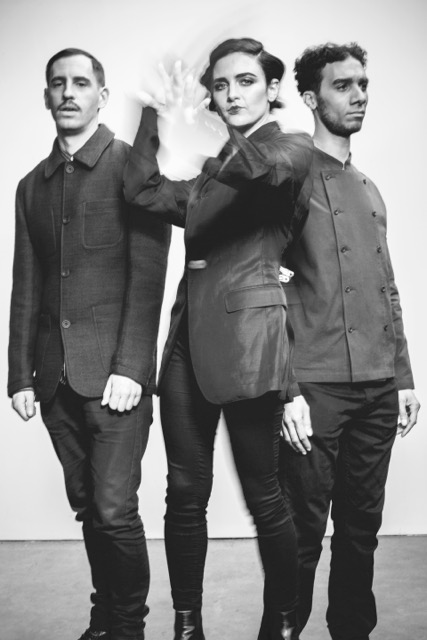 24 November 2016
Photography HAYDN VOOGHT / Art Direction LAWRENCE STEVENS LSD STUDIO / Styling KAREN MUNNIS /Make Up MARIA COMPARETTO /Hair FABIO VIVAN Bumble and Bumble
Fassine has released its latest single, "Feather Jesus", earlier than expected due to the strong response from fans after hearing the song on Fox's Lucifer. The band states, "'The overwhelming reaction to the song was wonderful. We wanted to release it early as a Thank You to all our fans who reached out after watching the show."
"Feather Jesus" is the first track taken from upcoming 2nd album Gourami, which is set for release in the summer of 2017. The band says that the single, "…is about death and loss and how people cope, celebrate and even embrace it."
As for Gourami, the band reveals that it's, "…a departure from our debut album; a more organic, human work. We're looking forward to sharing it and have some great musicians guesting."
The Big Takeover has the distinct pleasure of premiering the captivating "Feather Jesus", which is featured today on the US Shazam's Watch List. The song alternates between spare, shadowy verses clouded over with Palmer's vaporous vocals and punctuated by sharply clacking wood strikes, and éclatant chorus sections that are dream-driven with the spangle and diffusion of shimmering synths and Palmer's diaphanous, harmonizing sighs.
Fassine recently released its mesmerizing debut album, Dialectik, in the summer of 2016. The trio's (Sarah Palmer, Laurie Langan, James Hayward) music is lyrically stark and dark and musically cinematic and absorbing.
The act had support from Spin, Q Magazine, The 405, The Guardian, Giles Peterson – BB6 Music, and more in the run up to the delivery of Dialectik, which features shadowy lead single "Sunshine".
This was followed by 2nd single, "Kelby", accompanied by a stunning video titled "Chase", from NY director Lily Baldwin and starring model Edie Charles. Third single "Whatever It Takes To Help You Sleep" came with an accompanying video shot by Russian filmmakers Dogs of Passion.
Fassine recently worked with artist Robot Koch on his haunting new track, "Spine", reimagined Koch's latest single, "Heart Is A River" on Monkeytown Records, and has had sync work featured in Fox's Lucifer and Sony drama The Art of More. The band's track "Bring The Weight Down" was used as a backdrop on Sky Atlantic's hit US show The Following.
The trio has a keen ear for the cinematic, with a hint of Trent Reznor's influence, alongside the lyrical qualities of UNKLE and the minimalistic bent of Berlin -era Bowie. The band's sound is one of striking textures, imagery, and sonics that dares the listener to enter the group's own stark, but involving world.
Official Site
Facebook
Twitter