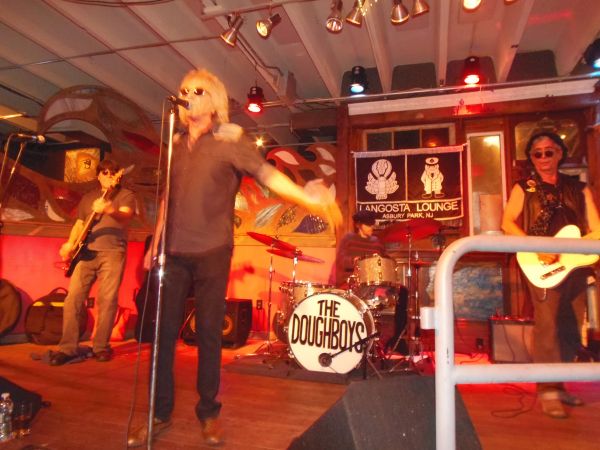 15 September 2017
The Doughboys – live at Langosta, July 29, 2017; Photo Credit: Nancy Leigh
The Doughboys present their fifth studio album, Front Street Rebels, twelve brilliant new tracks from the band whose career spans pretty much all the decades rock'n'roll has been in existence. They returned to the House of Vibes to work again with producer/engineer Kurt Reil, and the results are scintillating. Masterful songwriting, playing, and production mark this as Myke, Gar, Richie, and Mike 's crowning achievement – highly original rockin' tracks which remain true to their garage/blues/rock roots.
Since the band re-formed in 2000 at a surprise birthday party for drummer Richie Heyman's birthday (after having reigned as one of the most popular bands in central Jersey in the mid '60s), The Doughboys have released four albums (Is It Now?, Act Your Rage, Shakin' Our Souls, and Hot Beat Stew), numerous singles, and a documentary film with accompanying live disc (Rock N' Raw).
They've played up and down the eastern half of the country, often sharing bills with such luminaries as The Pretenders, The Yardbirds, The Electric Prunes, Roberta Flack, Robin Trower, and many others. Additionally, Doughboys music is used extensively in film, television and advertising, including in such TV shows as The Big Bang Theory, Californication, Breaking Amish, and The Good Guys, and in the film Coming Through The Rye.
Well, 17 years have gone by since they reunited, but The Doughboys haven't slowed down one iota! Front Street was where it was all happening in their hometown of Plainfield, New Jersey "back in the day," as they like to say. The Doughboys are the Front Street Rebels, pounding out blistering new rock'n'roll tracks that will stay with you always.
comments powered by