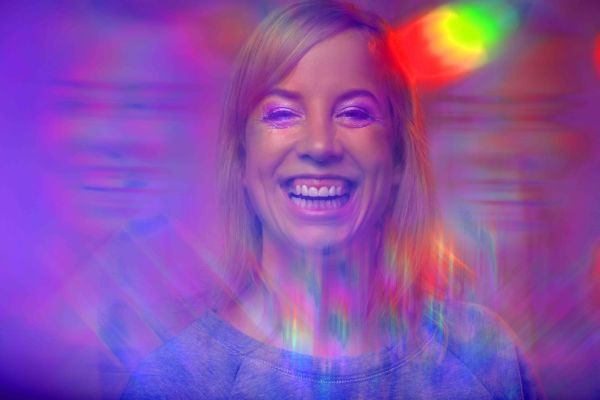 12 September 2017
Morgane Lhote of Hologram Teen; Photo Credit: Elena Kulikova
In the early '90s, music listeners were exposed to a band that were, at the time, unique on the music scene and, to this day, they remain seminal in that nobody ever managed to come close to them, despite many having tried. That band is Stereolab – a mixture of the Midas touch of Tim Gane (also evident in his project Cavern of Anti-Matter) and the unforgettable songstress mastery of Laetitia Sadier. But there was one more person that really provided the glue for that band and reflected the band's signature sound, seen in a series of career defining albums including Emperor Tomato Ketchup. That would be Morgane Lhote.
After a stint in The Projects and Garden with members of Simian Mobile Disco, Lhote started her Hologram Teen project in Los Angeles. Today The Big Takeover premieres the lead track off her debut album. Called "God(d) Of Thunder Vs. Sukia", this track is a slowed down, drugged out trip with intermittent bits of spaghetti western soundtracks and freaky, but awesome bits you can imagine from '60s B-grade horror movies. Perplexing and enjoyable with interesting change-ups and clever effects.
But this is not the first calling card here at The Big Takeover for Hologram Teen. Earlier on, our very own Chuck Foster reviewed the "Marsangst" / "Hex These Rules" 7" Hologram Teen released via Happy Robots Records (The Marsangst EP subsequently followed).
"God(d) Of Thunder Vs. Sukia" involved Sasha Fuentes and Craig Borrell of Sukia, a Californian electronic band who have been around since the early 1990s. Taking their name from the Italian vampire comic book of the same name, they released their debut album Contacto Espacial con el Tercer Sexo on the Dust Brothers label Nickelbag Records in the USA and through Mo Wax Records in the UK.
Apart from this slice of cinematic psychedelia, where Ennio Morricone meets Jean-Luc Godard at the mouth of the Styx River, London label Polytechnic Youth have ten more tracks where that came from on this debut album, called Between The Funk and The Fear. Apart from Sukia, another collaborator – Sweden's Orange Crate Art – also contributes on this album.
Occasionally whacked-out, but always awesome, these tracks were inspired by a multitude of key figures from varying genres – the soundtracks of Goblin and John Carpenter, 1970s French Disco and psychedelic Brazilian rock, Congolese Soukous, and the string arrangements of François de Roubaix and Jean-Claude Vannier.
"With this first LP, I wanted to create the soundtrack to the trippiest horror movie ever, and combine the scary and the absurd, through a very tongue in cheek aesthetic both musically and visually. For this project, I decided to experiment with adding live instruments, such as bass, drums, and strings, instead of or in conjunction with electronic instruments on some tracks. It was especially interesting to merge both musical feels and textures into one cohesive narrative," says Lhote.
"I also had a strong sense of what the music should "look like" as shown on the LP's cover design: Disco Démon was always going to be the main protagonist in a mish-mash of Jean-Claude Forest's comics meets neon loudness meets the movie poster to 'The Warriors' and 'Le frisson des Vampires.'"
Between The Funk and The Fear releases on October 2nd. The vinyl release is limited to 500 copies from Polytechnic Youth direct at thegreatpopsupplement@hotmail.com, from Morgane Lhote directly for orders within the USA (email through her Facebook page), and from various stores throughout the UK and select European distributors.
TRACK LIST
01 Post-Apocalypteacakes
02 Bleeker Street! Chase Me!
03 Tracksuit Minotaur
04 God(d) of Thunder vs. Sukia
05 Roller Lover Doppelgänger
06 Hologram Teen & Brasil 666
07 Bartók in C
08 Brooklyn's Broken! You Caught Me!
09 Lesbian Death Drums
10 Magique Afrique
11 Escape from Paris (Orange Crate Art Remix)
We also think you should feast on her most recent release – the Marsangst EP
and check out Hologram Teen's remix for London synth-pop artist Rodney Cromwell:
HOLOGRAM TEEN
Facebook
Twitter
SoundCloud
MixCloud
Happy Robots Records
comments powered by