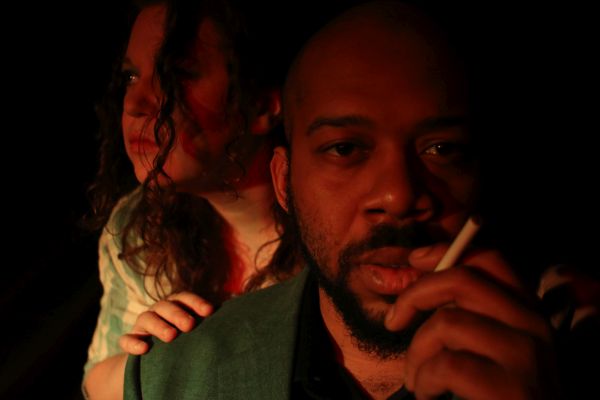 7 February 2018
Stonerpop; Photo Credit: Brandon Bowman
Louisiana is no stranger to the world of music, having produced such artists as The Neville Brothers, Fats Domino, Jerry Lee Lewis, Lil Wayne, Louis Armstrong, Louis Prima, Mahalia Jackson, Wynton Marsalis, Better Than Ezra, and even Britney Spears. Today we celebrate yet another artist from this region with our sonic wanderings leading directly to the northern part of the state.
If you are a fan of School of Seven Bells, Austra, Phantogram, Polica, The Knife, Fever Ray, or Chvrches, you are in for a treat as The Big Takeover premieres "Headglow", the first single from Stonerpop's forthcoming album Physical Business.
Stonerpop are an electronic-synthpop/psychedelic duo, comprised of Jimmie Maneuva from Shreveport and Maudie Michelle, originally hailing from Idaho. Stonerpop weaves a sonic tapestry that is unique, memorable, aural bliss, and deserve many many repeats. This initial peek into their new 7-track offering is in full overdrive, extraordinary, and invigorating. If electronic music had a Richter magnitude scale in terms of intensity and impact, this one would be near the top of the rating.
Maudie Michelle provides thought-provoking lyrics with her calming voice and quirky synth melodies. Her compositions interlock with Jimmie Manueva's haunting backing vocals and cleverly woven instrumentation. The output ranges from a full-on and welcomed sonic assault to trance-inducing song mastery, establishing them as a vital new creative force to electronic music.
Their new Physical Business album follows up their self-titled EP in November 2016. Following their debut, Stonerpop came to be among five finalists nominated for Best Local Band in DeltaStyle Magazine's Best of The Delta.
"Headglow first began with intentions of creating a club banger and we sat on the bouncy bass for awhile before vocal patterns and lyrics materialized. Around the same time, a really good friend, Johnnie, moved back to town with the intentions of rekindling an unfinished music project with us. A brilliant guitarist and songwriter, he struggled with mental illness and substance abuse. Even though those things caused us to stop writing together in the past, we decided to join up again (he seemed to be doing better at the time!)," explains Maudie Michelle.
Michelle continues, "It wasn't long before he became irrationally critical of us, the "bar scene", and himself as he began, once again, to spin out of control. As the unnecessary stress from Johnnie mounted, I made the decision to step down and just focus on my own project. Johnnie freaked out at the news. I held my ground, he was forced to find a new bassist, and I poured my feelings about the situation into "Headglow". The song really hits me in the heart now because Johnnie took his own life in November 2017. Although he was unstable and hard to handle, he was like a brother to me. Some more songs on this EP contain lyrics alluding to him (on "Royalty" and "Physical Business" namely)."
"I tend to think of our sound as lyrical Polaroids. Our songs are snapshots of human moments," concludes Maudie Michelle. "We have the "stoner" tendency towards repetition to lure listeners into security within a track which provides us the choice to sonically subvert expectations. Our sound is both chill and motivating. We aim to help the listener both kick back and turn up, with the hopes of some introspection. We love darker, thicker synth sounds and bass."
While Stonerpop's inspiration cannot be attributed to marijuana, their music is mesmerizing and, at moments, trance inducing, establishing them as a vital new creative force to electronic music. Recorded in Monroe, Louisiana between Sugar Studios and the Stonerpop studio, and mixed and mastered by Jimmie Maneuva, Physical Business is currently doing well in both NACC and Muzooka radio charts.
Naturally constructed around synthesizers and keyboards, Stonerpop's music weaves a unique web of their own, distinguishing them from other electronic acts. Applying a light melodic touch and layered texture, these melodies are often ghostly and compellingly play off sharper rhythms, slowly escalating in sonic range until the intensity peaks.
Stonerpop's music is influenced by a range of artists, including Portishead, Garbage, Imogen Heap, Austra, Metric, Phantogram, U.N.K.L.E., and Massive Attack, as well as specific psychological influence stemming from the fact that the couple are married and that Maudie lost both of her brothers to suicide, as well as other friends.
Physical Business will be released both on CD and digitally on March 9th, but is already available for Pre-Order via Stonerpop's Bandcamp
TRACK LIST
1 Royalty ft. Fred Kalil
2 Physical Business
3 Human Nature
4 Darling Won't You
5 Headglow
6 Game Over (I Remember)
7 Snowflake
Also check out the band's debut EP and their remix of Phantogram's 'Same Old Blues':
STONERPOP
Website
Facebook
Twitter
Instagram
Soundcloud
YouTube
Spotify
iTunes
Bandcamp
comments powered by