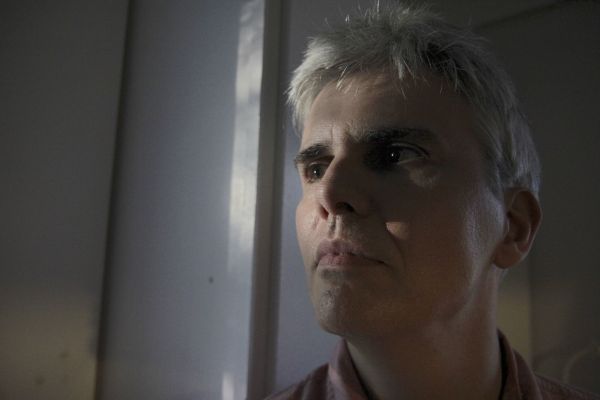 10 October 2017
John Davis; Photo courtesy of John Davis
John Davis, previously of The Folk Implosion with Lou Barlow, has announced a new album, El Pulpo. Billed as John Davis & The Cicadas, it features a backing band that includes Peter Hughes of The Mountain Goats, Andrew Levi-Hiller of Yairms / Alhhla, Wendy Allen of Balustrade Ensemble, Jonathan Henderson of Kaira Ba, and improv trombone player Jeb Bishop.
Produced by Scott Solter, El Pulpo is a complex, experimental concept album that explores corporate corruption in the food industry and related issues like (im)migration, mass incarceration, public health, and the stock market.
El Pulpo was inspired by Raj Patel's book Stuffed and Starved (along with other similar texts) and its title translates as The Octopus, the derisive nickname that union organizers in Central America gave to the United Fruit Company because of its tentacle-like grip on countries like Honduras and Guatemala. Throughout the album, Davis sheds light on other "octopi" like Coca-Cola, Monsanto, and Blue Cross/Blue Shield.
Album track "HFCS" is about our society's dangerous addiction to high-fructose corn syrup, and with lyrics like "the bitter truth tastes sweet" and "you stimulate and then you depress," it's both literal and poetic.
Davis dives into the song's background, revealing, "The track "HFCS" is about High Fructose Corn Syrup, and more generally, a culture based on things that "stimulate and then depress," in a line lifted from a talk by the Buddhist monk Ajahn Sumedho. I learned from Dr. Robert Lustig's talk Sugar: The Bitter Truth that the man who approved HFCS for public consumption was none other than one Earl "Rusty" Butz, Richard Nixon's Secretary of Agriculture. Lustig's talk taught me that the upshot of HFCS was that it was so (artificially) cheap compared to cane sugar that food multinationals could afford to slather it over everything – particularly over cheap junk foods that are heavily marketed to children and the poor."
Davis continues, "As a teacher at a Title 1 public school in the US, I watch kids on free & reduced lunch (& breakfast) consume sugary foods every day. Schools serve these Cocoa Puffs etc. because the corporations that produce them lobby congress to force school systems to buy their products. Raj Patel cites a study that current trends threaten to reduce US children's life spans by 5 years due to diet related diseases. The introduction to his book Stuffed & Starved highlights the international nature of the problem – for example, Patel writes that India became home to the world's largest concentration of diabetics within a decade after opening up its markets to soft drink companies and other food multinationals – just as the introduction of western television to a remote area of Fiji in 1995 raised rates of anorexia and bulimia from 0 to 11% by 1998."
El Pulpo is due out October 20th via Shrimper / Revolver (US) and Arbouse Recordings (France).
Upcoming shows:
10/21: Chapel Hill, NC at Local 506 – record release show
11/24: Pomona, CA at DA Center for the Arts (solo show)
11/25: San Francisco, CA at Hemlock Tavern (solo show)