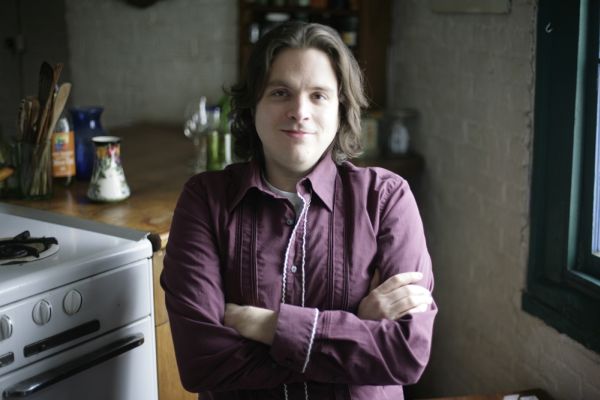 23 April 2018
Cosmos Sunshine; Photo Credit: Maureen Drennan
"Hobbit Rock" is the latest single off the upcoming album, Comes With The Fall, from Brooklyn-based psych rocker Cosmos Sunshine (Yes, that's his real name). The musician has been playing professionally since his teens and is heavily influenced by the music and culture of the 1970s.
After a move to New York City, Sunshine became the lead guitarist, songwriter, and bandleader for 1990s juggernauts Cherokee Sex Workshop and Walkinbird. Since that time, he has been an active solo performer and the front man for Cosmos Sunshine & the Butterfly Effect, Los Lotharios, The Cosmos Sunshine Band, and Dan Patch.
In total, Sunshine has amassed a discography of five full length albums and four EPs and has played some of the best venues in New York City (Brooklyn Bowl, Irving Plaza, Joe's Pub, CBGB, The Knitting Factory, (le) Poisson Rouge, The Wetlands Preserve, The Nightingale Bar) and toured nationally (opening for such greats as Gov't Mule, Blues Traveler, The Spin Doctors, Johnny Winter, Lenny Kravitz and many, many more).
This year Sunshine was inducted in to the Connecticut Blues Hall of Fame and plans to release his fifth full length album, Comes with the Fall, at the end of May.
Exclusively premiering on The Big Takeover is exclusively premiering a rockin' track from the album, "Hobbit Rock", which was inspired by the sights and sounds of Sweden. Blazing and crunchy rock guitars collide with dynamically choppy drum rhythms, sweet, peeping flute notes, and Sunshine's rich, but rushed to staccato vocal delivery.
Sunshine explains, ""Hobbit Rock" was written while I was sitting upon a two billion year old crystalline rock outcrop beside a giant lake in Sweden. Ever since I was small, I've been obsessed with Tolkien and I find any place that can transport me to Middle Earth incredibly inspiring. Sweden is definitely one of those places. I often say that I was communing with the little folk when I wrote that number…"
Comes With The Fall is due out on May 25, but is available for pre-sale now through Bandcamp
Website
Facebook
Instagram
YouTube
Bandcamp
SoundCloud
Spotify
comments powered by