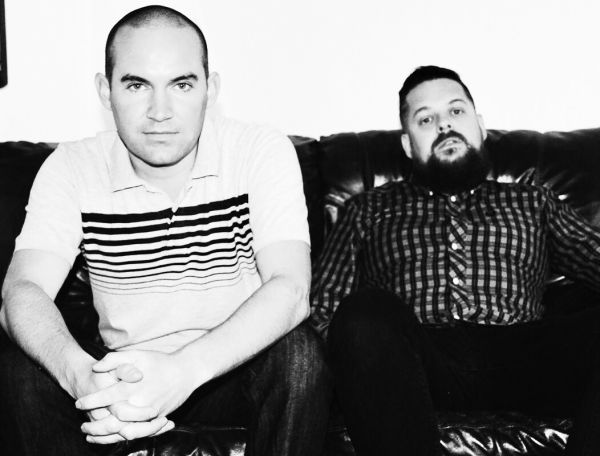 21 February 2017
Analogue Wave; Photo Credit: Del Chaney
It's not every day that we are introduced to new Irish music and when we are, it's not very often that something jumps out at us to say "Wow, this is pretty cool and unique, and definitely doesn't sound like anything else from this region". But fortunately, we did recently get that feeling.
Today, The Big Takeover is pleased to present the premiere of Dublin-based electronic duo Analogue Wave as they get ready to release their new single "Hope". It's been about three years now since their last original release (the Casimir album), although there was a remix-based album squeezed in there (called Alterations).
Like their previously released track "Mezkal", this new single calls to mind Chemical Brothers' "Setting Sun" and their "Life is Sweet" collaboration with Tim Burgess of The Charlatans. They certainly also share quite important elements with Leftfield, Massive Attack, Nine Inch Nails, and Underworld. Analogue Wave, however, benefit from offering more spaciousness in their arrangement with a slower tempo than Underworld or Chemical Brothers typically do, for instance. This is a relevant, solidly-penned song with a well delivered performance.
Since their formation in 2012, these electronic crafters have been mixing dub and electronica with break beats, vocals, and synths to create some pretty glitchy, atmospherically-charged musical output. "Hope" emerged as a result of pent-up frustration over the political screw-ups and national freak scenarios that have developed for at least two of the more prominent countries of the free world over the past year.
The band's frontman Del Chaney explains, ""Hope" is a sonic reaction to both the political and climatic turmoil currently threatening modern life as we know it. It was written under the shadow of the farcical US presidential elections and the current fallout from Brexit."
The band says they were heavily influenced by the likes of Leftfield, Nine Inch Nails, Depeche Mode, Massive Attack, Dead Can Dance, Portishead, as well as the late '80s Manchester music scene.
They have previously released two full studio albums, their 2013 debut release N.l.G.w.V , which found the band receiving praise in one of the most notable British publications,The Guardian, followed by their sophomore release Casimir in 2014.
Their debut album was Album of the Week on RTE 2FM, ranked at number 11 in Dan Hegarty's The Alternative (RTE 2FM) Top 50 alternative Irish albums of 2013, with the Casimir album ranked at number 31 on the same list in 2014. They have played live at many of Ireland's boutique music festivals, live radio studio sessions, some of the country's best live venues, as well as many impressive underground raves.
As for the new maxi-single, it will be accompanied by two remixes – one by Irish experimental psych/kraut collective Tuath and one from notable Canadian-Ukrainian duo Ummagma, a dream-pop band that has become known for their sublime remixes and original material, as well as recent collaborations with 4AD artists Robin Guthrie (Cocteau Twins) and A.R. Kane, as well as Malcolm Holmes (Orchestral Manoeuvres in the Dark).
If you enjoy "Hope", you're in luck because the band plans to officially release a full album later this year. As for the single, it releases on March 24th and will be available digitally via Bandcamp
ANALOGUE WAVE ARE:
Del Chaney – vocals/songwriting
Andy Sneyd – songwriting/production
We also invite you to enjoy the freaky monkey video for their track "Mezkal" from their debut album and a stream for that album below.
<
ANALOGUE WAVE
Facebook
Twitter
Bandcamp
SoundCloud
comments powered by