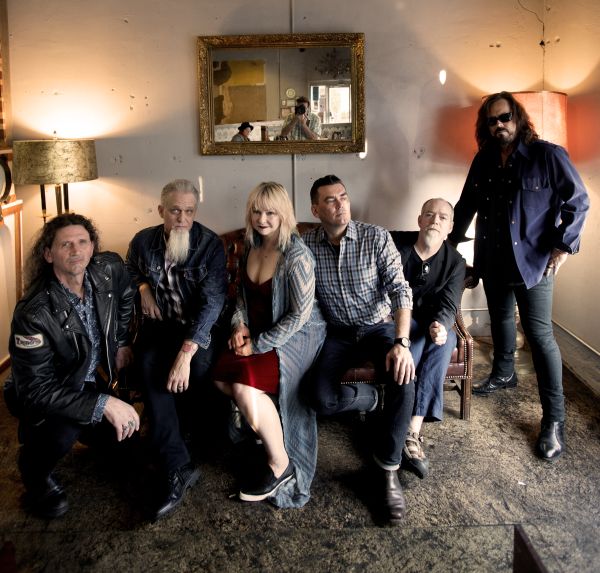 27 April 2017
Raging Fire, 2017: (L-R) John Reed, Jeff Cease, Melora Zaner, Mark Medley, Giles Reaves, Joe Blanton; Photo Credit: Eric England
RENOWNED NASHVILLE ROCKERS RAGING FIRE RETURNS WITH THESE TEETH ARE SHARP ON MAY 12th
The '80s alternative rockers deliver their first new album, These Teeth Are Sharp, in more than 30 years, reaffirming their status as one of Nashville's most dynamic bands by creating a blazing section of literate punk-powered rock for the here and now.
The album follows the 2015 release of the critically acclaimed career anthology, Everything Is Roses 1985-1989, which told the story of one of Music City's most innovative and beloved rock bands.
Raging Fire was formed in 1983, when Nashville underground rock scene veterans Michael Godsey, Mark Medley, and Les Shields teamed with vocalist Melora Zaner. The quartet combined the punk/roots rock aesthetic of bands like X and the Gun Club with fiercely literate lyrics, invoking Patti Smith filtered through a Southern gothic aesthetic, releasing their first EP, A Family Thing, in 1985.
Over the next four years, Raging Fire refined their pop-punk-classic rock sound, garnered critical acclaim for their EP and the 1986 LP Faith Love Was Made Of, and toured extensively throughout the South and Midwest. Yet many major labels lacked the insight to understand the band's unique fusion of a dynamic rock sound with feminist and deeply interpersonal lyrics. It was a classic case of a musical vision ahead of its time. By the end of 1989, the members had moved on to other projects, leaving behind a legacy of powerful, innovative music.
But there would be another chapter to Raging Fire's story. In 2012, Godsey and Medley began discussing plans for the compilation Everything Is Roses 1985-1989, just months before Godsey's tragic death from a heart attack. Three years later, Raging Fire honored Godsey's memory and celebrated the release of the 22-song compilation with a live performance at Nashville's Exit/In.
For that show, Zaner and Medley reunited with three former Raging Fire bass players, Les Shields, John Reed, and Rusty Watkins. To fill out the band's sound, they also recruited friends and contemporaries from the '80s Nashville rock scene — guitarist and vocalist Joe Blanton (Royal Court of China, The Bluefields), guitarist Jeff Cease (The Black Crowes, Eric Church Band), and keyboardist and electronic music composer Giles Reaves.
With the new line-up from the Exit/In show, the group began cutting tracks in Nashville's County Q studios with producer/engineer Mike Purcell. Several songs were drawn from the band's past, lost gems that had never been fully developed or recorded properly. Other tracks gave the band an opportunity to take previously released songs in a very different direction. In addition to bringing a new perspective to older songs, the group also turned their attention to new material.
Throughout the nine songs on These Teeth Are Sharp, the new configuration of Raging Fire burns with fierce punk passion, razor sharp lyricism, and a focus and wisdom granted only by rich life experiences. It's a bold declaration from a band that has chosen to forgo nostalgia over past glories and make their stand here and now.
"Coming together to record this album was a way of finishing something for Michael," Zaner says. "But it was also a way to honor the people who were there with us at a very exciting time in music. It was a time of great creativity with bands pushing each other to be better musicians, songwriters, storytellers and performers. There's been a lot of living since those days, but there's still a lot of living left to do — these teeth are still sharp."
The Big Takeover premieres "Hush Angel Blue" off the album, a spirited rock number brightened by Zaner's sweet, confident vocals, occasional curling guitar twang, lively rhythms, and a driving pace.
Medley explains, ""Hush Angel Blue" is a 1989 song that finally got a proper recording in 2016. It was the last song we cut and is one my favorite songs on the record. We were really firing on all cylinders at that point. Joe lays down a relentless rhythm guitar while Jeff weaves the leads around the vocals. Rusty's bass and Giles's B3 organ bring the power. Producer Mike Purcell said it made the hairs on the back of his neck stand up when he was mixing it."
Zaner picks up the thread, revealing, "The song is about having difficult conversations, the ones we hope to avoid whether with friends, lovers, or family. That moment you realize you have to confess, tell your true feelings, and time slows down as the pain emerges and the fear comes to the front. We fear being alone if we say it yet that moment of truth can bring us closer. The moment we realize it is okay to speak; we're free and we sing."
Official Site
Facebook
Twitter
YouTube
Bandcamp
comments powered by