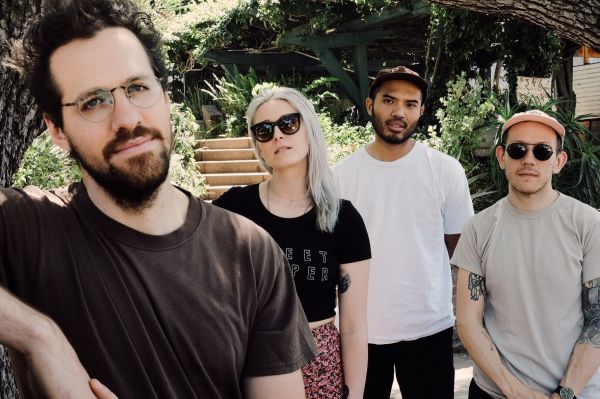 25 July 2017
Darto; Photo Credit:
Today The Big Takeover introduces you to the first single from Darto's upcoming album Human Giving, set for release this September via the well reputed Aagoo Records, for which we've featured several releases earlier, including The Use with Rachel Mason
The label has decided to gift the world two releases at the same time – the aforementioned 12-track album and a 7" featuring a two-song collaboration between Darto and WAND.
Darto is a Seattle-based four-piece comprised of Gordon De Los Santos, Gregory Flores, Candace Harter, and Nicholas Merz.
"I Am" is a catchy sultry melancholic downtempo synth-infused psych-trip combining the best of Cate Le Bon, The Velvet Underground, The Brian Jonestown Massacre, and The Black Ryder. The keyboards and strings seemingly propel the movement and the lyrics with instrumentation seem to induce a trance-like feeling.
"We didn't play shows and hardly went to shows for a year and a half so we could write and record the album," says Darto's Gordon De Los Santos. "The album comes from the places within us where hope and love exist. Where the focus is not on the self, and suddenly everything is possible. Humans giving themselves to other humans. The power of listening on all fronts."
Human Giving was recorded by Darto between September 2015 and January 2016 in a cabin in Cle Elum, WA and their home in Seattle. It was mixed by Cory Hanson at Comp-ny in Burbank, CA and mastered by JJ Golden at Golden Mastering in Ventura, CA.
DARTO
Official Site
Bandcamp
Facebook
BlogSpot
comments powered by